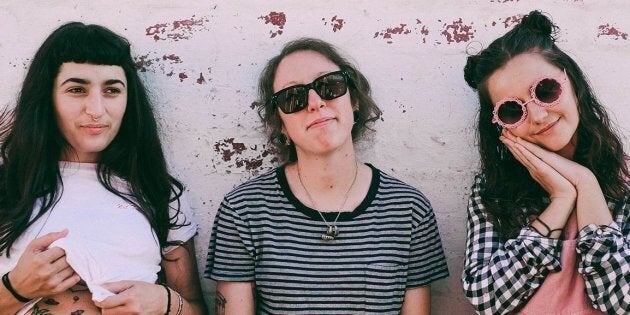 "It's another man saying we cant fill up a tent, it's another f*cking festival booking only nine women".
With just two lines in a song performed on-stage at Falls Festival in Byron Bay last weekend, Melbourne band Camp Cope reignited the long-running debate around representation of women at Australia's biggest music festivals, taking the brave move of calling out the very festival they had been booked to play at.
Camp Cope, whose three members are all women, were named on the lineup of the Falls Festival which hosts events in four Australian states over the New Year's period. The band -- who have made their name with passionate, emotional anthems focusing largely on issues around feminism and diversity, as well as starting numerous conversations around safety and sexual harassment at concerts -- changed the lyrics of their latest single 'The Opener' to take aim at the festival for inviting only a small number of women to play.
Video of the performance of 'The Opener', a song which itself deals with this topic with lyrics about the rejections and issues Camp Cope has faced as an all-female group, was posted to the band's Instagram page. A huge cheer from the crowd, as the altered line was sung by frontwoman Georgia Maq, is clearly audible. The video was uploaded with the caption "it's another festival saying we can't play a main stage", while another video of the same performance was captioned with "maybe they'll never get it (putting women higher on a bill)".
The video and message has gained wide media attention, sparking a fierce debate about representation of female artists on music festival lineups, as well as their position on playing timetables.
Falls Festival co-producer Jessica Ducrou said in a statement that gender balance was a "consideration" when booking lineups, but that it was "challenging".
"Whilst we have a very conscious and strong agenda to book female talent, it isn't always available to us at that headline level. We have a long term strategy, which is present on this year's Falls line up, of giving opportunities to new and middle range female Australian artists, to nurture and grow the future pool of female headline option," Ducrou said.
"We support the core message of gender balance and have been working towards a more balanced line up at Falls."
But the three members of Camp Cope have since added further comment to the debate via social media, citing how bands with fewer followers and smaller crowds played later than them on the day and in more coveted positions on the timetable. Just a small handful of female musicians played on the Falls main stages, as part of bands mostly consisting of men, with promising Australian female acts like Alex Lahey, Julia Jacklin and Ecca Vandal relegated to earlier slots on smaller stages.
Fans also shared their own support for the band's message and sentiments, pointing out the huge crowd that Camp Cope drew as an argument to support them being worthy of a more lucrative position on the lineup.
But it is far from only Falls Festival which can step up and do better in terms of representing a wide range of performers on their lineups. Falls didn't fare much better in 2016 either, with the only acts featuring females with slots near the top of the bill being London Grammar, Alison Wonderland and The Jezabels. In 2015, only Courtney Barnett and Halsey were flying the flag for women near the Falls headline slots.
At Splendour In The Grass, run by the same company as Falls, things have been marginally better. The xx, featuring frontwoman Romy Madley Croft, were one of the headliners for 2017, playing right before all-sister group HAIM, while Tash Sultana and Big Scary also played on the main stage. But looking beyond that, no female-featuring artist headlined any other stage at Splendour, with Meg Mac and San Cisco the next highest-placing acts. Just four of the top 16 names on the poster featured women.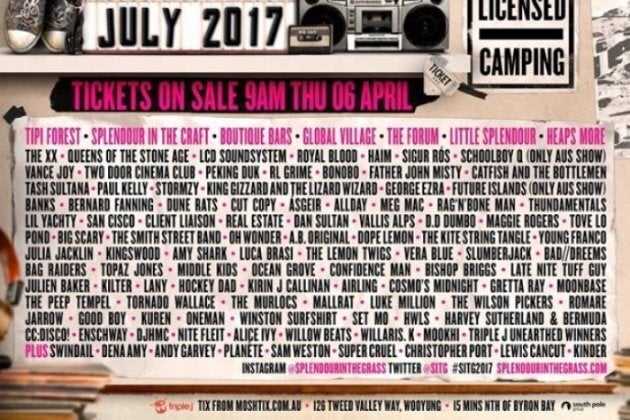 In 2016, Splendour had Santigold headlining the dance stage on one night, but only five of the 26 acts to play on the main stage featured female performers. In 2015, Florence + The Machine were named the second headliner on the festival, with Of Monsters and Men also high on the lineup, but they were the only two female-featuring acts among the top 16 names on the poster.
At popular regional touring festival Groovin The Moo, none of their 2017 headliners were women. The most prominent placings given to The Jungle Giants (featuring Cesira Aitken on guitar) and George Maple, who both played in the early evening, after other female acts like Amy Shark, Tash Sultana and Montaigne. Female DJ Alison Wonderland was one of Groovin's headliners in 2016, but not many other female acts featured. The likes of Emma Louise, Vallis Alps, MS MR and Ngaiire played far earlier in the day, on a lineup dominated by men.

New festival Sydney City Limits, to be launched in February, has only a handful of women on its lineup. Tash Sultana is given the highest female billing, at number six, and she is one of only six female acts on the bill of around 30 bands.
Camp Cope have truly ignited discussion around gender balance on festivals, and with a groundswell of support from fans and other musicians, expect to see this become an ongoing issue until further progress toward equality is made.
In the meantime, if you'd like some super talented Australian female talent to check out, take a listen to the likes of Alex Lahey, Ali Barter, Ruby Fields, Body Type, Sampa The Great, Ecca Vandal, Jack River, Bec Sandridge, Tkay Maidza, Sloan Peterson, Alex The Astronaut, Little May, Stonefield, Vera Blue, KLP, Cable Ties, Nina Las Vegas, Alison Wonderland, Nicole Millar, The Preatures, Waax, Tired Lion, Meg Mac, Vallis Alps, Tees, Mallrat, Tonight Alive, Saskwatch and Big Scary.