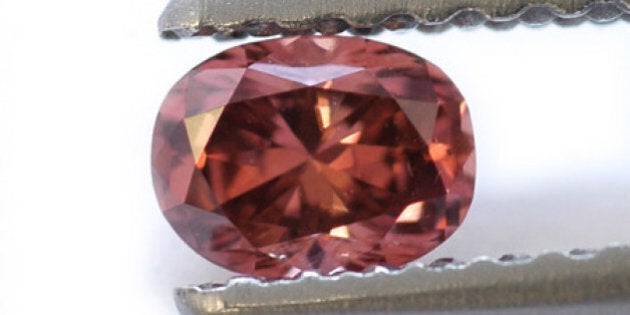 Fancy Deep Brownish Orangy Pink Diamond" data-caption="0.20ct Fancy Deep Brownish Orangy Pink oval diamond with a GIA VS2 clarity. A nice stone with brownish reddish color flashes and strong pink color face up. This stone is certified by GIASource:Fancy Deep Brownish Orangy Pink Diamond" data-credit="FancyDiamonds.net/Flickr">
Did you know that the most valuable gem the world has ever seen was a pink diamond? The 'Graff Pink', a 24.78 carat Fancy Intense Pink sold at auction in 2010 for over USD $46 million.
Australia boasts most of (and the best) pink diamonds in the world. Approximately 20 times more valuable than their white diamond equivalent, pink diamonds are extremely rare and in turn, pretty pricey -- sometimes reaching into the millions of dollars per carat. Not great news if you were considering a pink piece of Australia for an upcoming engagement.
"They are so expensive because they are rare and beautiful," Michael Neuman, Director of the Diamond Guild of Australia told The Huffington Post Australia.
"Firstly, there are diamond mines on every continent and they all produce white (or colourless) diamonds, however the Argyle diamond mine in Western Australia is the only reliable source of pink diamonds on the planet, being responsible for a staggering 90 percent, or more, of global supply."
"Secondly, 75 percent of the polished pink diamond production of the Argyle mine weigh less than one tenth, (0.10) of a carat! This means that pink diamonds of significant size are rare as the proverbial hens teeth," Neuman said.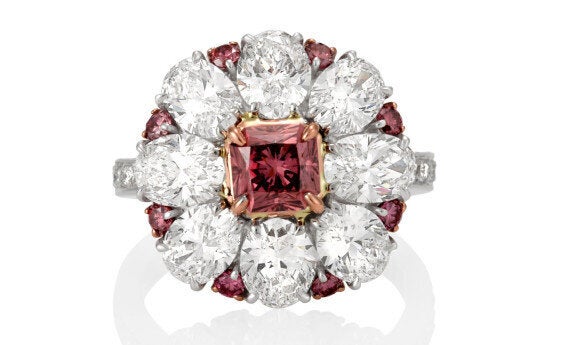 On display and available for purchase in the Mondial Pink Diamond Atelier in Sydney's Queen Victoria Building, The Mondial 'Charisse' Diamond has a retail value of approximately $1 million.
For the 30 years or so that the Argyle Mine, located in W.A, has been selling pink diamonds to the world, the price has never gone down -- despite local or global economic crises and therefore they have also been seen as a potential investment or hedge.
To put in perspective just how rare they are, just one tenth of one percent of the Argyle Diamond Mine's production is pink. Their annual production of pink diamonds, just over half a carat, would fit in the palm of your hand. The larger rare violet diamonds would barely fill a teaspoon. And you consider that the mine is expected to close in 2020, that explains why they are so coveted and so pricey.
Throughout history pink diamonds have been treasured by royal families the world over, with the most notable being the Williamson Pink -- a 23 carat diamond that is currently owned by Queen Elizabeth II.
Celebrities such as Blake Lively, Kate Bosworth and Mariah Carey have all been known to have pink diamonds, too, however, these tend to be large and faint in colour. Argyle pink diamonds offer an intensity of colour that is unmatched by any other pink diamond.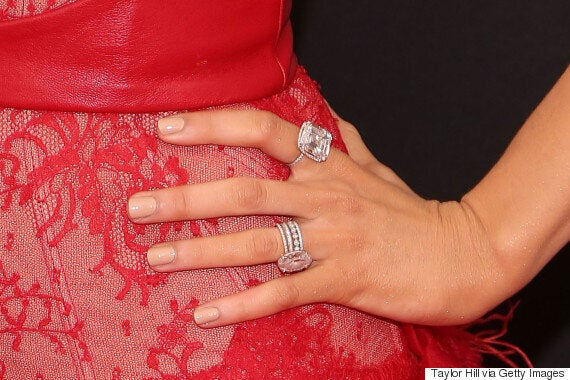 Blake Lively's pale pink sparkler.
"While we know pink diamonds are approximately 1.6 billion years old, scientists and gemologists the world over are still perplexed as to how they get their colour, as there are no trace elements such as those found in other coloured diamonds such as yellow, blue and green Diamonds," Neuman said.
Though if you still have your heart set on the rare Aussie blush gemstone, all is not lost.
"It is important to know that they can be accessible to a much broader audience today. While you might have to compromise on size, pink diamonds can be bought for less than $2000 and there are ways to incorporate pink diamonds into a design that does make it affordable and not so out of reach," Neuman said.