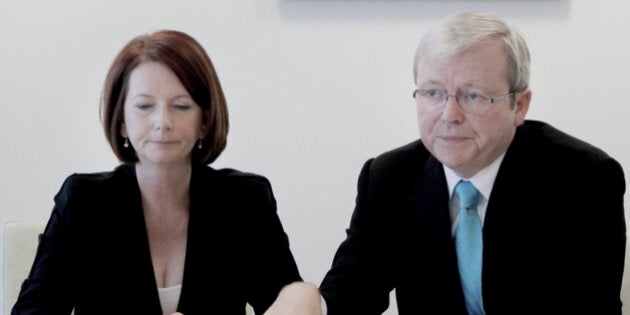 It's not often that former Prime Ministers Julia Gillard and Kevin Rudd agree on something, or even acknowledge the existence of the other -- so when they do, it's an occasion to mark.
Gillard and Rudd don't exactly exchange Christmas cards or birthday invitations, after taking turns unseating other as Labor leader between 2010 and 2013. They came together last night though, supporting a push for an Australian republic while also throwing a little shade.
At 7.05pm on Wednesday, Gillard sent this tweet:
And not to be outdone, while probably wishing he was a little faster with his phone and fingers, Rudd followed along just 27 minutes later:
They are both spruiking the Australian Republic Movement (ARM), an organisation pushing for Australia to become "an independent republic with one amongst us chosen as our Head of State."
ARM is headed by journalist and author Peter FitzSimons. The organisation was formerly chaired by Malcolm Turnbull, who conveniently just ascended to the post of Prime Minister on Monday. Turnbull led the group from 1993 to 2000 and spearheaded the "yes" campaign in the failed 1999 referendum on an Australian republic.
"Let's make this a five- to six-year project instead of a 10-year job. Recent polling indicated that 57 per cent of respondents favoured holding a national vote on replacing the British monarch with an Australian head of state by 2020," Mayfield wrote.
"You could begin with a clear statement of intent that achieving full and final independence from Britain is a priority for your prime ministership."
As recently as 2013, Turnbull was reported as attending ARM functions. Turnbull has subtly called out the monarchist movement over the years, last year saying it was ''an interesting time to see knights and dames coming back'' after Tony Abbott reintroduced the honours.
It was perhaps ironic, then, that Turnbull was sworn in as PM by the first knight appointed by Abbott -- General Sir Peter Cosgrove.
Many in the republican movement see Turnbull's ascent to the Prime Ministership as a key step along the way to a republic. A movement to change the Australian flag has been ticking along for some time -- however, a 2014 poll found only 42 percent of Australians supported a republic, while 51 percent opposed such a move. In 1999, despite the republican referendum failing, a poll found the pro-republic figure was around 58 percent.
Meanwhile, FitzSimons' wife (and The Huffington Post Australia editor-at-large) Lisa Wilkinson was among those to note the rarity of a Rudd/Gillard united front.
More remarkable is the subtle shade Rudd dropped on his former deputy and successor: "Much I disagree on with Julia Gillard. But not this."
Maybe Kevin isn't quite over his emotional dethroning in 2010.