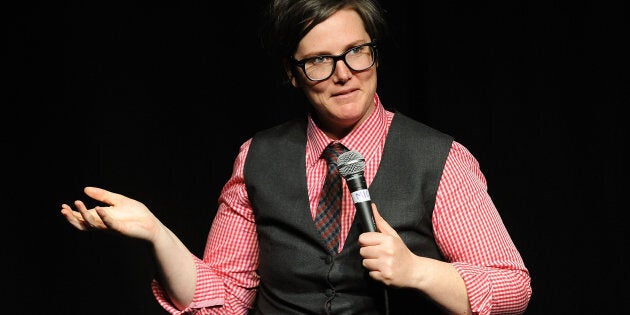 This year marks the 70th anniversary of the world's largest arts festival, the Edinburgh Fringe, and this year, for the first time in the festival's history, the top comedy award has been granted to two performers.
Australian stand-up comedian Hannah Gadsby was named a joint winner of the £10,000 (AUD $16,300) prize, alongside British comedian John Robins.
Gadsby, who has this year taken out the Barry Award for Best Show at the Melbourne International Comedy Festival and the award for Best Comedy at the Adelaide Fringe Festival, won the award for her performance 'Nanette', which developed from a blog she wrote about marriage equality in Australia.
However, despite taking home a prize that proves her comedy is more than entertaining, Gadsby's journey is far from funny.
The 39-year-old said in March she would be retiring from a "hectic" career in comedy and the spotlight where she had often been the target of relentless homophobic and sexist abuse.
As an outspoken opponent to the plebiscite on same-sex marriage, Gadsby wrote in the 2016 blog post which would become the inspiration for her award-winning Edinburgh Fringe Festival show, that the plebiscite would be a "very bad idea" and expose already vulnerable children to an ugly debate "where only the most horrible voices and ideas were amplified by the media".
The Edinburgh Fringe Festival will be one of Gadsby's last outings as a stand-up before she retires to her home state of Tasmania. Fortunately for fans in Melbourne and Sydney, the comedian will perform 'Nanette' at a string of shows between September and November before putting her stand-up career to bed.
In a performance that also centered around relationships, comedian John Robins shared the first prize with Gadsby with his show 'The Darkness of Robins', which detailed the end of his relationship with fellow comedian Sara Pascoe.
Director of the Fringe awards, Nica Burns said while the shows were very different, the awards were equally deserved.
"Both shows ... were hotly debated and fiercely fought for. Comedy has many possibilities and audiences very different funny bones. These two incredibly talented winners make you laugh and touch your heart," said Burns.
"And yes, they will both receive £10,000 each so it's been an expensive year -- long may comedy break the rules."