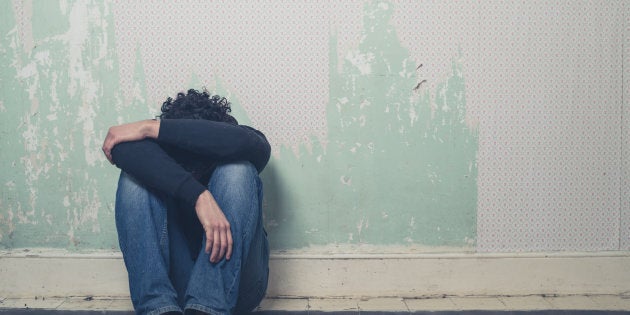 Australia's suicide rate is the highest it has been for at least ten years. In 2015, 3,027 people ended their own lives in Australia. That's 12.6 people in every 100,000.
That's more than eight people every single day.
One person every three hours.
The Australian Bureau of Statistics released its Causes of Death report on Wednesday. Ischaemic heart diseases, dementia and cerebrovascular diseases topped the list -- intentional self-harm came in as the 13th highest cause of death in Australia, higher than breast cancer, pancreatic cancer, liver disease and skin cancer. The ABS recorded 3,027 deaths by intentional self-harm in 2015, the highest number on record.
The average age of someone dying by suicide was 44, compared to a median age of 82 years for all deaths. Intentional self-harm and 'cirrhosis and other diseases of liver' were the only causes of death on the top 20 list with an average death age below 70.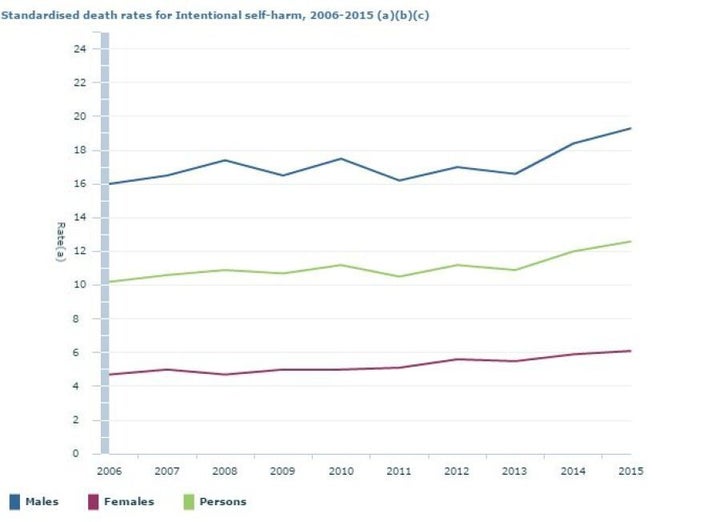 "Suicide was the leading cause of death among all people 15-44 years of age, and the second leading cause of death among those 45-54 years of age," the ABS said in its sobering report.
"In 2015, suicide accounted for one-third of deaths (33.9 percent) among people 15-24 years of age, and over a quarter of deaths (27.7 percent) among those 25-34 years of age."
We need to pull out some of these statistics to show it properly:
The suicide rate for men were three times higher than for women, at 19.3 deaths per 100,000 people;
Northern Territory had the highest suicide rate, 21 deaths per 100,000;
suicide accounted for 1.9 percent of all deaths in Australia;
the highest rate of suicide for men came at age 85 and over; for females it was 45-49;
87 children under the age of 17 committed suicide in 2015;
in the NT, the child suicide rate was 13.6 deaths per 100,000; the next highest state recorded 3.1 deaths per 100,000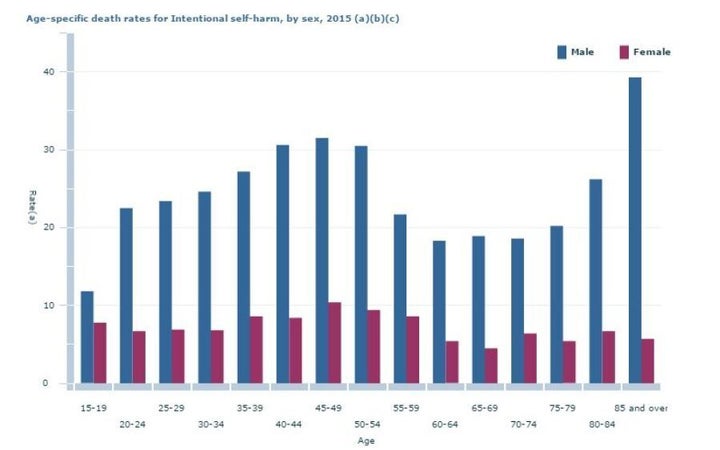 The mental health community has been quick to respond, saying the figures represent a failure in mental health policy.
"We do not want 3000 lives lost to be the new tragic benchmark when it comes to deaths by suicide each year in Australia," Lifeline CEO Peter Shmigel said in response to the shocking statistics.
"We as a sector and community are failing our most vulnerable and we must do more and do better. This means starting a national conversation about how we can respond differently," Shmigel continued.
"While we're prescribing more medication for mental illness than ever before – including a doubling in the rate of antidepressant use since 2000 -- we are not doing enough to combat social factors that lead so many to choose death over living."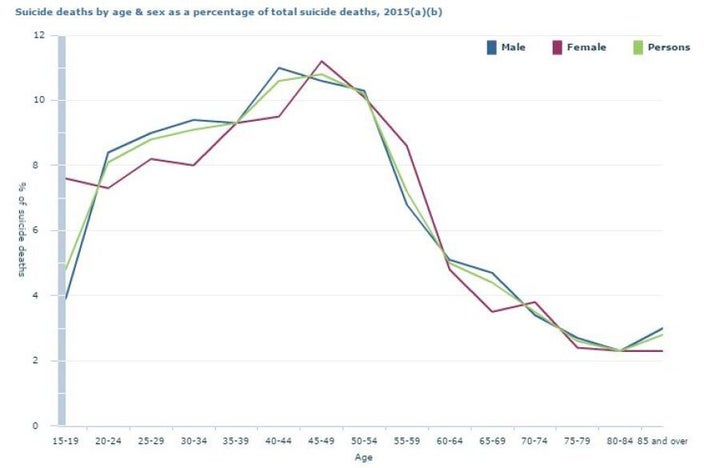 Shmigel and Lifeline are calling for a national summit on suicide to address the spiralling issue. In its statement, Lifeline said a 'National Summit to Stop Suicide' was needed, with the organisation planning to invite "thought leaders and professionals from inside and outside the mental health sector to discuss innovative solutions to the country's suicide emergency".
"Instead, we need to focus on asking people less of 'what's wrong with you?' and more of 'what's happening for you and how can I unconditionally support you?'. After all, there's no magic pill for loneliness, social isolation, relationship breakdowns and other personal crises," Shmigel said.
If you need help in a crisis, call Lifeline on 13 11 14. For further information about depression contact beyondBlue on 1300224636 or talk to your GP, local health professional or someone you trust.