JAKARTA, Indonesia ― The bell rings in a garment factory on the outskirts of the sprawling city, signaling the end of a nine-hour shift. "No overtime for me today," says Istiyaroh as she rushes to collect her belongings from the lockers.
Workers gradually flow outside into the steamy late afternoon heat. As the crowd of mostly women grows in size and noise, Istiyaroh (who goes by Istiyfor short) jumps into one of the vans taking employees to the distant exit.
Squashed among a dozen others giggling in their colored headscarves, she sums up her day: "I double-stitched the shoulders of 80 shirts per hour," she says, relieved but tired. "But sometimes it's hard to meet the target."
Istiy, 35, is one of the over 2 million garment industry workers in Indonesia, the world's fourth most-populous country and one of the top 10 garment exporters. Indonesia is less reliant on this industry than other developing southeast Asian countries, like Cambodia and Bangladesh. Yet, some 60 percent of Indonesia's garment workers are women.
And it is women who will be mostly affected by what the United Nations' International Labour Organization identifies as alooming risk for millions of workers in Asia: automation, robots and artificial intelligence.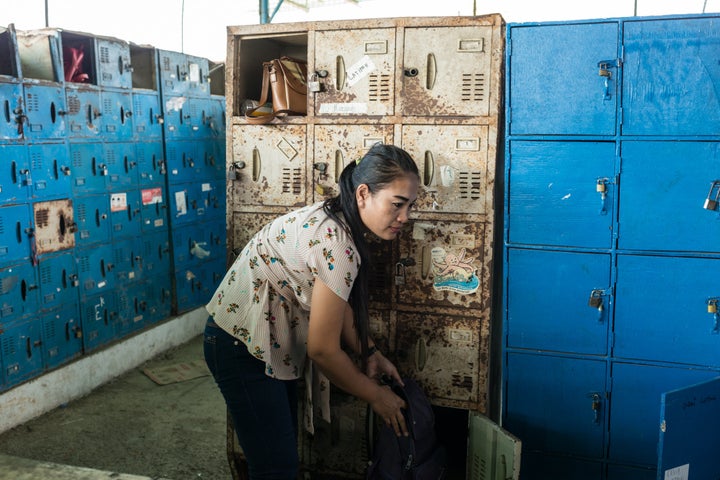 Female workers in Indonesia represent one of the most vulnerable links in a vast global supply chain that provides cheap, quickly produced clothing for the likes of H&M, Zara, Adidas and Nike. The irony is that the world's hunger for fast fashion may one day put women like Istiy out of a job. As demand increases — the global apparel industry is expected to reach sales of $1.65 trillion by 2020, a 60 percent leap from 2011 — the industry is steaming ahead with new and higher levels of automation to accelerate and optimize production.
"Throughout the 1990s and early 2000s, the cost of labor was so cheap it stymied innovation in the sector generally," the ILO's Gary Rynhart said. But working conditions and wages have slowly improved over the years. And now the industry is approaching a crossroads, where automation offers an opportunity to cut costs again and churn out products faster than ever.
"The technology now exists to automate a lot or maybe all of those jobs." Rynhart said. "It's a question of when the cost of labor is no longer a decisive factor ... it's a 'when,' not an 'if,' scenario. And as we have seen, technological change can happen fast."
Governments in Asia and weak labor unions are failing to address these warnings, with millions of jobs possibly at risk, according to the ILO. And garment workers can sense that change is coming.
"I am worried," says Istiy. "I don't want to become unemployed."
The van stops and she walks the 15 minutes through a noisy alleyway to her home. As is the case for thousands of other garment workers, home is a six-square-foot hot cubicle flimsily partitioned from its neighbors for which she pays $25 a month.
Crammed under the metal roof are a makeshift kitchen, two plastic wardrobes with neatly piled clothes, a sewing machine, a TV and the mattress she unfolds every night. Precious personal touches hang on the wall: a string of Christmas lights and photos of her two daughters ― the 11-year-old in dancing outfits, and the 17-year-old wearing sunglasses.
Istiy's girls live hundreds of miles away with her elderly parents, and she provides for all of them with a $250 monthly salary. It is higher than in most of Southeast Asia, but so are living costs in the city.
Her world was very different seven years ago, when she was a stay-at-home mom and her husband supported the family selling nasi goreng chicken on the street. But his death, following complications from pneumonia, changed everything and forced Istiy to seek work that took her away from her daughters.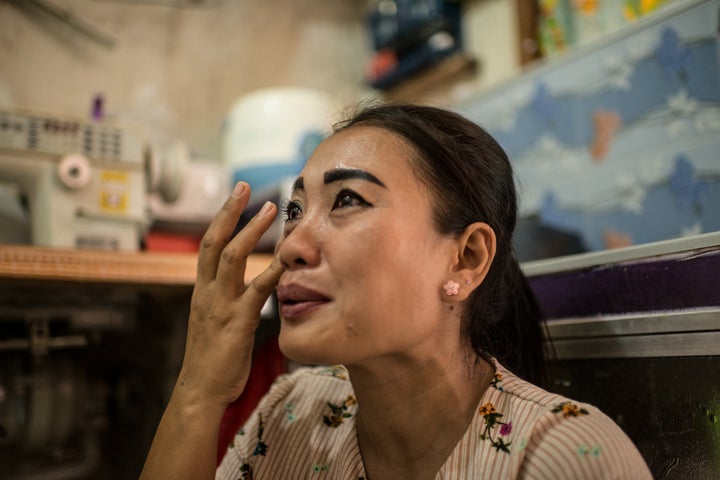 She insists life is OK as long as she can make her daughters happy. But even as she says it, her voice breaks: "When I open this door I feel so lonely, so lonely."
"But what else can I do?"
This is an industry notorious for its lack of safety and in which many women face verbal, physical and sexual harassment. Automation might create a higher number of skilled jobs and make factory work less dangerous for some. But for women like Istiy, there are few certainties and plenty of fears.
Much of the automation so far in Indonesia has aimed to optimize production by replacing old machinery, and to keep pace with tough regional competition. According to an ILO survey, 35 percent of companies in Indonesia reported upgrading technology in 2016, higher than the southeast Asia average of 27 percent. But while this kind of change is generally welcomed by workers, experts say automation is already picking up in a way that suggests job losses will start to rise.
The cost of labor is just one of the many reasons automation is starting to take hold in the country, but it looms large in the mind of Robert Siagian, a former garment factory worker and a leader of the national union Serikat Pekerja Nasional in North Jakarta.
"Whenever there was a minimum-wage increase, the company I worked at ... called a consultant to optimize costs," Siagian said. "So they bought machinery to automate the process — like a cutting machine — and lay off people."
He mentions a department where, six years ago, nine of 45 workers were made redundant while production increased over 30 percent. HuffPost met with one of these laid-off workers, a woman named Istikomah, who now lives in a village in West Java.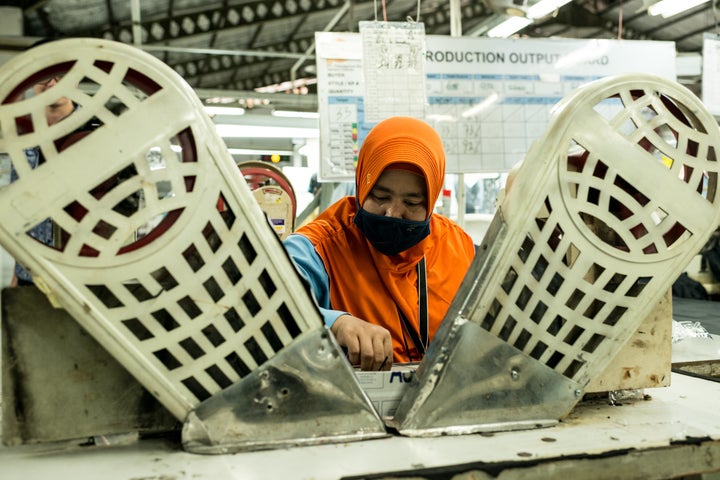 "I loved working with those modern machines," she said, as her 3-year-old asked to play. "They improved working conditions and made our work more precise."
"But with machines comes the pressure," Istikomah added. "They expected us to work more because we had this splendid machinery — and targets got higher and higher. ... And if you didn't meet that target, you would get scolded. Some colleagues got ill because they'd skipped lunch."
"They wanted us to become machines," she said.
Istikomah, who earns occasional money selling snacks, says she's lucky because her husband has a good job. "But if all these women lose their jobs, most of them wouldn't know what to do," she said. "The government has to prepare, they should provide free training, education."
Unions agree that automation isn't all bad. It can increase productivity and protect workers from exposure to harmful chemicals in the textile dyeing process. But pre-planning is needed.
"Companies need to warn us at least two years before they buy new machines, to prepare," said Elly Rosita Silaban of the Garteks Federation of Textile and Garment Workers Union.
New factory tech varies widely throughout the region. Some machines use lasers to cut far more layers of fabric than a human could, and with greater speed; others iron and sew items while people merely load and unload the finished products.
In a Pan Brothers sportswear factory in Tangerang, west Jakarta, activity is frenetic. Lines of sewing machines are humming as a dashboard sets workers their daily target. Yet, behind a glass wall with a sign reading "No photographs allowed" sits a two-week-old acquisition: a $20,000 machine from China which weighs the precise amount of feathers to fill each section of a down jacket and spreads them evenly.
"Until very recently, this was all done manually, with hands and sticks," explained Marissi Jordan, assistant manager at Pan Brothers. Now the job requires half the people and is twice as productive, he adds.
But newer technology calls for ever lower levels of human intervention. The U.S.-based company SoftWear Automation has triggered much buzz with its Sewbot machine, which cuts and stitches together simple garments like T-shirts completely on its own ― no human required. The goal is to drastically shorten the supply chains of clothing companies, allowing consumers to eventually order personalized clothes with their exact measurements.
The Sewbot is available mostly to companies in the U.S. and Europe, for now.
Palaniswamy Rajan, chief executive of SoftWear Automation, claims these machines are not a threat to garment workers. Automation will "free energy for better and more skilled jobs, and humans will still be needed for more complex activities," he said from his Atlanta headquarters.
In the long run, whether robots take over garment factories in Asia will be crucial for the future of women like Istiy. Yet, with such availability of cheap labor in Southeast Asia, it could be years before technology costs make the financial case for automation. And in Jakarta, workers laid off for a variety of reasons often become outsourced tailors, working at home with half the pay and fewer rights.
Fast-fashion giant H&M, which commissions the production of some of its garments from manufacturers in Indonesia, says it's "hard to speculate" about the future of the industry.
"The Asian market is an important sourcing market to us," a company spokesperson said by email. "But it is also an important retail market for our operations," H&M added, referring to the gleaming shopping malls in Jakarta selling its products, though at prices Istiy can only dream of.
The ILO says that, overall, big brands like H&M have improved standards for working conditions. But David Welsh, country director in Southeast Asia for the Solidarity Center, a U.S.-based workers' rights organization, says major clothing companies fail to prioritize their employees. "The brands control and seek out specific market dynamics and it's a deliberately exploitative system," he noted.
Consumers, meanwhile, are generally unaware of the precarious position garment workers occupy in Indonesia. Criticism of the industry tends to home in on countries like Bangladesh and Cambodia, where clothes manufacturing makes up an outsized part of the economy and stories about dangerous labor conditions and low paygrab international headlines.
"While the impact of automation in Indonesia could be very bad for those immediately affected, this doesn't register in the global consciousness of media and consumers because the garment industry is a blip on the overall economy of Indonesia," Welsh explained.
Back in the cubicle, Istiy is eager to have her daily call with her daughters. Sunday she will go for a run with some neighbors, after cleaning the common toilets.
But now, too tired to cook anything other than instant noodles, she ends her day watching "Karma," an Indonesian reality show where the characters predict what future their actions have earned.
"I hope my family is proud of me," she says.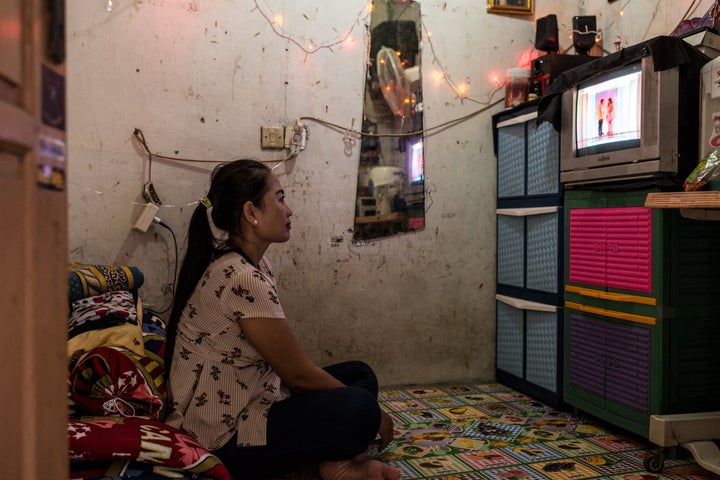 For more content and to be part of the "This New World" community, follow our Facebook page.
HuffPost's "This New World" series is funded by Partners for a New Economy and The Kendeda Fund. All content is editorially independent, with no influence or input from the foundations. If you have an idea or tip for the editorial series, send an email to thisnewworld@huffpost.com