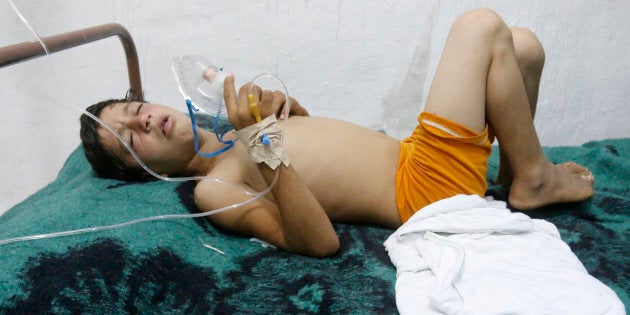 The Turkish government confirmed on Thursday that post mortems carried out on individuals who were caught in the gas attack launched on the rebel-held town of Khan Sheikhoun in the Idleb province proved chemical nerve agents had been used. Thirty-two victims of the attack were transported into Turkey to seek medical attention, according to Reuters.
WARNING: This piece includes graphic images.
Opposed to that, the U.S. Government believes the chemical agent sarin was used in the attack and it was "almost certainly" carried out by forces loyal to President Bashar al-Assad, a U.S. Government source told Reuters.
Sarin is a colourless, odourless liquid and is generally considered to be a weapon of mass destruction. Production and stockpiling of sarin was outlawed in 1997.
The World Health Organisation (WHO) confirmed in a statement released on Tuesday the symptoms of those affected by the attack appear to show signs the chemicals used included deadly nerve agents banned by international law.
"The likelihood of exposure to a chemical attack is amplified by an apparent lack of external injuries reported in cases showing a rapid onset of similar symptoms, including acute respiratory distress as the main cause of death. Some cases appear to show additional signs consistent with exposure to organophosphorus chemicals, a category of chemicals that includes nerve agents," the statement read.
"If the Assad regime has used chemical weapons, as is being alleged, that constitutes a war crime. It constitutes a shocking war crime," Turnbull told Tasmanian radio 7AD.
"The Assad regime should abide by the laws of armed conflict and there should be and will be, I've no doubt, a full investigation into the circumstances of what appears to, well what has been, appears to be, a horrendous use of chemical weapons which we condemn."
"I know the president and I and our entire administration condemn this chemical attack in Syria in the strongest possible terms... It cannot be tolerated," he told Fox News US.
"I like to think of myself as a very flexible person... I don't have to have one specific way and if the world changes, I go the same way," he said at a press conference on Wednesday.
"I do change. And I am flexible. and I'm proud of that flexibility. And I will tell you, that attack on children yesterday had a big impact on me. Big impact. That was a horrible, horrible thing. And I've been watching it and seeing it, and it doesn't get any worse than that. And I have that flexibility, and it's very, very possible, and I will tell you, it's already happened, that my attitude toward Syria and Assad has changed very much."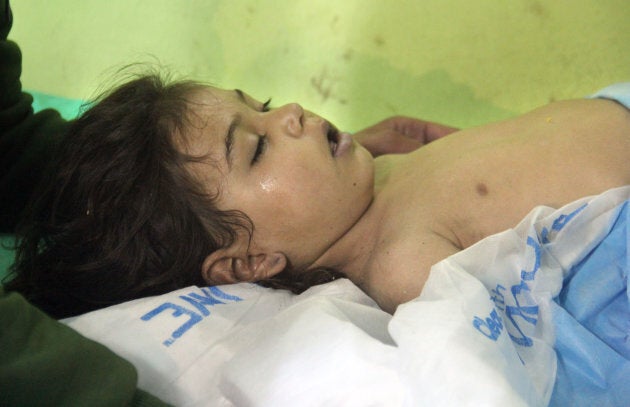 The President's comments also come as U.S. Ambassador to the United Nations Nikki Haley issued a stark criticism of the international response to the attack, asking the U.N. Security Council, "How many more children have to die before Russia cares?"
"Time and time again, Russia uses the same false narrative to deflect attention from their allies in Damascus. Time and time again, without any factual basis, Russia attempts to place blame on others," she said.
"The truth is that Assad, Russia, and Iran have no interest in peace. There are times in the life of states that we are compelled to take our own action."
Haley gave her speech at an emergency session of the U.N. Security Council, where the U.S., Britain and France proposed a draft resolution that blames Assad for the attack. Despite Haley's comments, it's unclear whether the U.S. will go beyond condemnations in terms of taking action against Assad or pressuring Russia to use its influence to push for a peace process in Syria.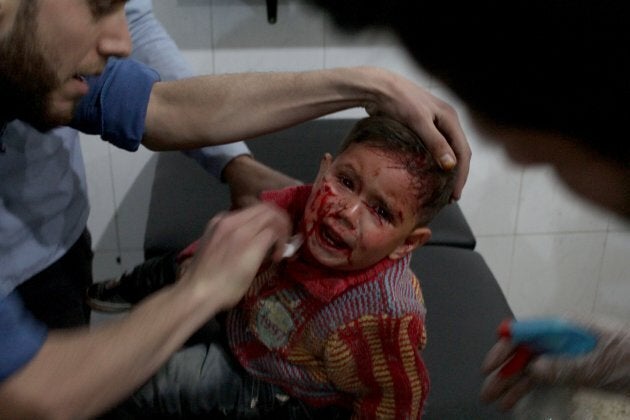 Paul Walker of the non-profit NGO Green Cross International believes if forensic evidence from a fact-finding mission launched into the attack does confirm that, the political repercussions could be endless.
"I think at this point we have to assume the worst, and the forensic evidence from the fact-finding mission will prove that one way or the other in the next couple of weeks," he said.
"If it does result in a forensic proof that, in fact,the Syrians attacked in the Idlib province with undeclared Sarin agent, there will be all sorts of hell to pay really, political hell to pay, from the OPW and the UN Security Council in the very near future."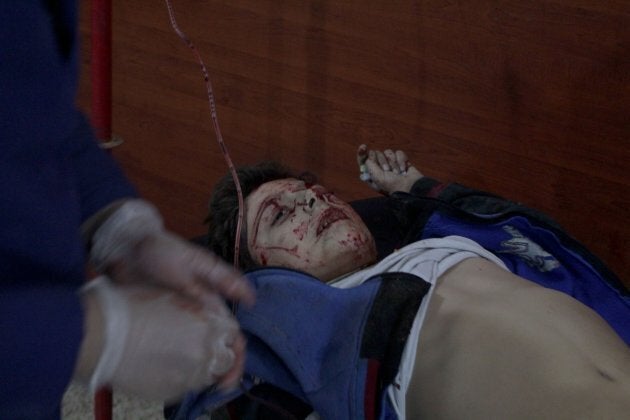 "This is part of a broader pattern we've seen throughout the conflict of Syrian government forces being willing to use any method of warfare against their own people," Baker told The Huffington Post.
"We know the Syrian government was responsible for nerve agent attacks in Damascus suburbs in 2013, and they've continued to use chemical weapons since then," she added, noting an independent investigation of Tuesday's events will still be necessary to fully verify responsibility.
"We also know this attack was carried out with airstrikes," she continued. "The only forces that have aircrafts are the Syrian government, Russian forces and the U.S.-led international coalition, and of those three parties, the only ones we know who were responsible for chemical weapons attacks in the past are Syrian authorities ... ISIS [the so-called Islamic-State] has been responsible for chemical weapons attacks in Syria, but ISIS is not located in this area."
ALSO ON HUFFPOST AUSTRALIA