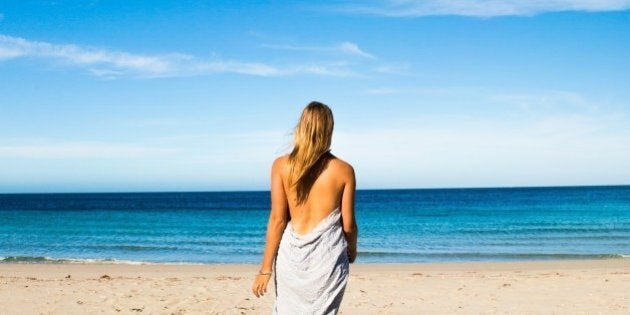 I haven't cut my hair in two years. Not a trim. Not an at-home tidy up. Absolutely nothing. And it's never looked better.
Now I know what you're thinking - she's one of those people with naturally healthy hair. Not true.
My hair used to look like one of Sia's straggly old wigs that had been discarded after a live show.
Every time I'd sit down in the hairdresser's chair, I'd get the snippy lecture:'Your hair is so damaged', 'the comb won't even go through', 'Look, I'm just going to cut this knot out'.
I've heard it all, but somewhere between the rinse and the blow dry, there must have been a free-of-charge brainwashing, because I believed it.
I thought I wasn't doing enough to keep my hair healthy and I felt bad for subjecting the poor hairdresser to an encounter with said head atrocity.
I'd smother it in treatments, oil, homemade avocado moisturising creams (which, by the way, was delicious) and I'd still get the guilt trip from the hairdresser. I started to dread that hairdresser's chair like it was electric.
Then I moved to a remote community where the nearest hairdresser was a two-hour drive away.
Surrounded by people who, generally speaking, were not at all concerned with their appearance my beauty routine fell away pretty quickly. No makeup, no heels, no blow drys, no problems.
It suddenly felt like a strange, vain pursuit, to spend 15 minutes in front of a mirror when you could be out watching the sun warm the savannah, or having a cup of sweet tea with a friend.
There's a sense that these people know who I am, and they know what I look like, and tinkering around the edges with hair or makeup doesn't change anything.
I developed an unshakable confidence in myself as I am (hair included).
Back in the city, I waited for my friends to comment on how unkempt and zany my hair and gotten but all I heard was compliments.
And not those 'oh god I can't stop staring, I better say something nice' compliments.
My hair's grown out of all the layers and fringing and treatments now so it doesn't require any maintenance.
On a good day, I've got that whole windswept I-just-went-swimming look.
And on a bad day? Well that's the thing. I've realised hair has no power to make a day good or bad.
There are more important things in life.
This blog first appeared in August 2015.