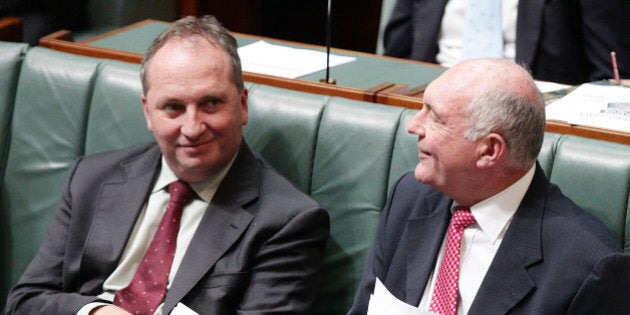 Barnaby Joyce has been elected the new leader of the Nationals Party and Deputy Prime Minister.
The long-serving Agriculture Minister was elected uncontested by the National Party in a secret ballot.
Speaking after the ballot on Thursday evening, he said the new role was "an awesome responsibility" and appealed to his party's country base to get behind the new-look party.
"This is a statement by country people and people in towns, people in the weatherboard and iron and people in the brick and tile, those on the farm, those on the coast, who are saying these are the people that we have an expectation will represent us. It is their excitement manifest in what is happening in this room because our responsibility is to them."
Nationals Senator Fiona Nash has been elected as the party's first female Deputy, beating six other candidates for the position.
Senator Nash said she was humbled to have been chosen as deputy.
"It's an exciting time to be in regional Australia," she said, mirroring Malcolm Turnbull's words at his acceptance speech as Prime Minister.
The new appointments come after Warren Truss announced his resignation from the leadership position on Thursday, announcing he will retire from politics entirely at the next election.
The leadership change could heighten tensions between the Nationals and their Liberal coalition partners, as Prime Minister Malcolm Turnbull and Barnaby Joyce have historically had opposing views around foreign trade and climate change. While Truss was known for his quiet temperament, Joyce has a colourful reputation as an outspoken and polarising minister.
The new Deputy Prime Minister controversially announced he would euthanase Johnny Depp's terriers after the pet pups were not declared through customs in 2015.
However, Barnaby Joyce was quick to reassure the public that he would be a unifying force as leader.
"I am by nature -- despite what people might think -- a person who works in a collegiate form," he said Thursday evening. "I worked that way in the Senate, when I was in my business, and I have worked that way within my department."
Tony Windsor, who held Barnaby Joyce's seat of New England before retiring in 2013, said Joyce "will make it difficult for Malcolm".
"I think Barnaby Joyce by nature will go to the opportunism that is in the electorate and appeal to those sorts of issues rather than some of the substantive issues, you know the climate change issues, the long-term funding of health, the Gonski issues, renewable energy, all of those things," Windsor told Leigh Sales on The 7:30 Report.
"He's what is called a retail politician, not a detail politician. In that position he will really have to address some of the key issues in substance rather than just a few lines or a bit of a slogan."
"Unless there is a hard rein kept on Barnaby Joyce, he will be representing the Abbott crazies, as I call them, rather than a unified team looking at long-term policy."
The new appointment comes after a wave of departures from the coalition. Trade Minister Andrew Robb announced his retirement from politics on Wednesday -- he will leave his ministerial position in "some months" -- while Philip Ruddock will retire from politics at the next election after his appointment as Special Envoy for Human Rights.
The resignations and new appointments have led to growing speculation that a Cabinet reshuffle is imminent.
Former Independent Tony Windsor says he sees the new Nationals leader as "a retail politician, not a detail politician".