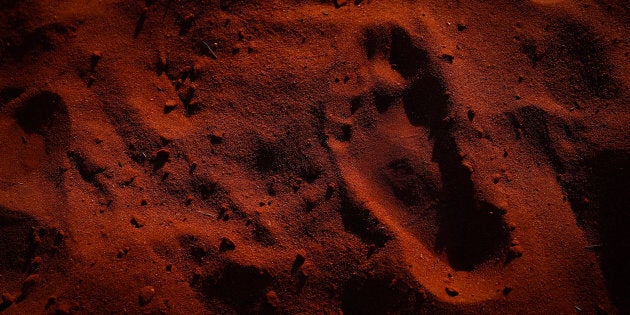 CANBERRA -- Deputy Prime Minister Barnaby Joyce has rejected the ambition in the Uluru statement from Aboriginal leaders for constitutionally-enshrined Indigenous bodies advising Australian parliaments, saying the idea of an Indigenous chamber is a "self defeating proposition" that just "won't fly" with the public.
There are expectations an Indigenous referendum will by held next year.
But in what could damage the bipartisan approach to a referendum, Joyce has told the ABC the idea of an Indigenous chamber is "just not going to happen" and indicated compromise is needed.
"I support constitutional recognition," Joyce told RN Breakfast. "I support that we have got make a substantive statement in regards to Aboriginal people and I have been on the ad saying precisely that."
"But if you go with something that is beyond our capacity to get the Australian people to get on board with it then it is a self defeating proposition.
The Referendum Council will deliver a final report to the Prime Minister and Opposition Leader next month.
Labor Leader Bill Shorten is keeping an "open mind" on the outcome at Uluru, saying he'll wait to see what comes out of the Council's report.
But Joyce can see problems already.
"If you are asking for a new chamber in the federal parliament, some of the articles I see are heading in that direction, that's not going to happen, I am going to be fair dinkum with people," he said.
"We have got enough problems with the Senate we have got. We do not need another one."
"We want something we can sell to the Australian people. You know the bosses in this show?
"If you are suggesting that we have local government, state government upper and lower house, then a federal government with a lower house, a Senate and another chamber again, you don't have to be Nostradamus to tell the future of what happens here. The Australian people will say no to that."
Indigenous Health Minister Ken Wyatt is "extremely confident" a referendum could be held next year.
"I think the combined voices of the Aboriginal and Torres Strait Islander people over all the processes that have occurred in the last six years is important and has shaped much of the discussion and thinking," he told the ABC.
"It is not just this last process of the Referendum Council.
"We have got to consider the context of the totality of all the voices in debate and government has a great opportunity, along with the opposition, to position this parliament to go forward a question."
Click below to follow HuffPost Australia Politics on Facebook!