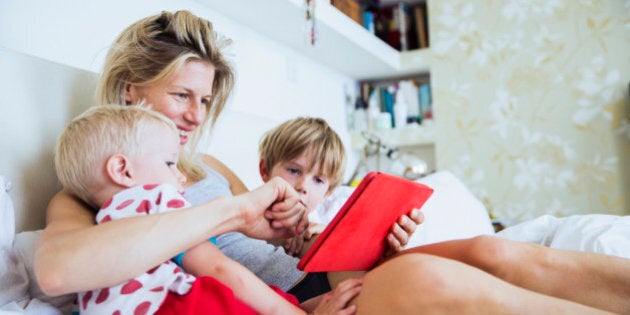 There are few things in life more comforting than your mother's voice on the other end of the line -- or even better, a real life hug -- but new research suggests Australian mums are selling themselves short.
Social demographer Bernard Salt said there were two elements at play which could explain why this sense of self doubt occured.
"Two generations ago there were no other models of womanhood -- you were a wife and a mother and all of the women around you were too -- this meant there was a self-confidence that came with motherhood because you received affirmation from those around you," Salt told The Huffington Post Australia.
However, today there are multiple narratives -- all just as legitimate as motherhood -- yet with more choice, more options and more duties comes a tendency to question your ability at any one of the roles you take on -- whether that's motherhood, a career or a partner.
Salt said given women were having four, five and sometimes six children in the 1960s and 70s there was also more dwell time during the nurturing stage -- from the time a child was born to when they start school -- which meant women had more experience back then as opposed to now, when women were only having one or two children.
Salt said the second element was due to the unrealistic expectations women placed on themselves as a result of external sources.
"Social media is largely to thank for this -- just as we were starting to become cynical about stylised advertisements -- Instagram and Facebook came along as an extension of those relentless images of what is really an unrealistic world," Salt said.
To make matters worse, those "perfect" images of those "perfect" families we once saw on television -- are now people on our Facebook we know or went to school with.
"No mother is going to put up a photo on social media of her child throwing a tantrum," Salt said.
The only images we tend to see are the happy, heavily stylised images -- and when a mother is having a bad day and seeing what looks like somebody else's reality on their feed -- it's going to cause self doubt.
The findings also showed the greatest pressures faced by mums included meeting the needs of their children, followed by finances and society's expectations.
As the largest and most recognised in Australia for celebrating mothering, the awards publicly acknowledge the enormous contribution that mums make in shaping Australia's future.