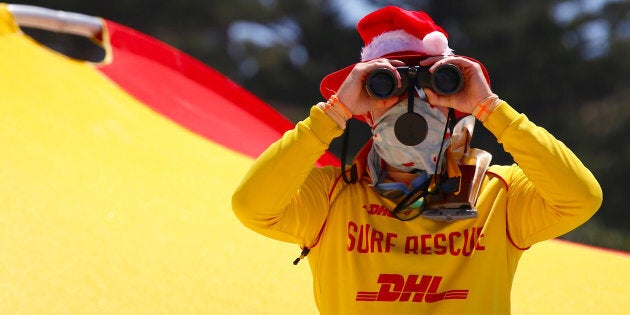 The heat was what got most talking on Christmas Day 2016 with a big congratulations to Adelaide! The South Australian capital won the prize of hottest "Xmas city", according to the Bureau of Meteorology. Most other capital cities hit 30C -- or very close to it -- with Hobart as an exception, sitting comfortably at 24C.
Although most Aussies spent the day wiping sweat off their foreheads, fingers where dry enough to share their best Christmas Day moments on social media. Best and most Aussie Christmas post goes to a woman in Frankston who found a bloody snake in her Christmas tree.
Sydney's favourite tourist trap beach, Bondi, got the full Christmas treatment with punters and surf live savers getting into the holiday spirit.
This guy has ditched Bondi for Perth's City Beach, and it doesn't look like he's missing out.
Not all of us could get the day off work, particularly our service men and women. Special mention to the police force in Brisbane for fully embracing the day.
Aussie didn't waste the opportunity to post their Xmas lunches, with pavlova, seafood and BBQ heavily featuring.
After all the feasting, comedy group Sketchshe had a message of which many of us can relate.