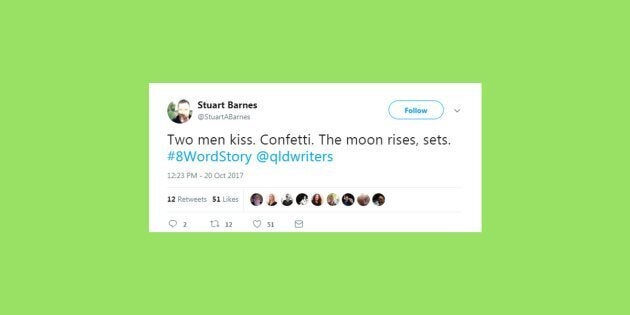 If you've wandered around Queensland this past week, you might have noticed bright orange billboards cropping up all over the place with only eight words on them.
They're part of the #8WordStory campaign being run by the Queensland Writers Centre -- and so far almost 10,000 stories have been submitted.
For each week this past month, 20 stories have been chosen to run on billboards around Brisbane.
Some of the best from their website include:
Delicate fingers, tiny feet -- endless love, one heartbeatMonika G
She led the world from a keyboard throneKate Smibert
'Hello sis.' After 75 years I wasn't wanted.Fiona Armstrong
Finished? Meet me again on the first page.Eleni Hale
Two men kiss. Confetti. The moon rises, sets. Stuart Barnes
But that wasn't the end of it. The #8WordStory went off on Twitter and others joined in with their best super short stories. And they got very funny.
You can see more on the official website here.