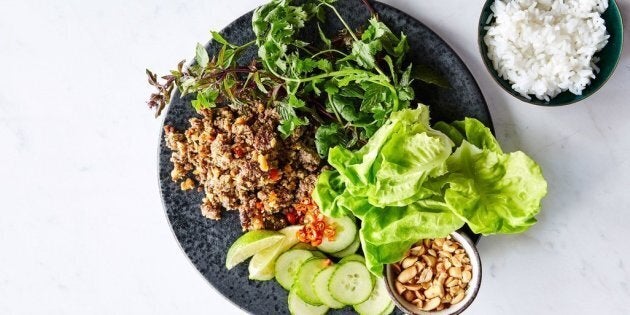 Need more ideas? Check out What's For Dinner
If you have never had larb before, you are in for a treat. Larb is a meat salad popular in Laos and it is just what you need to break up your weeknight dinner routine.
Next time you find yourself with a package of ground beef, resist the urge to make burgers, meatloaf or meatballs. Instead, make this fragrant meat salad ― flavored with garlic, lemongrass, chiles and peanuts ― that you can wrap in lettuce for a healthy dinner that's not only delicious, but quick to make, too.
You can also make this meal with any meat or meat alternative you have on hand. Bon Appetit, who made the inspiring recipe video above, has a recipe for ground chicken larb, lamb larb, cauliflower larb and chicken breast larb, too. All you have to do is find lemongrass ― check your local Asian markets or Whole Foods ― it's well worth the effort.