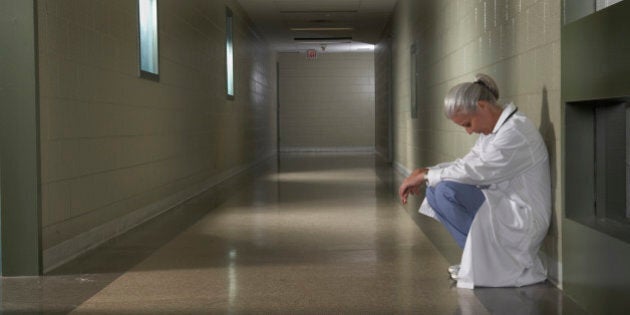 Several years ago, getting out of bed seemed like a monumental task. In a new job in a new city with no friends or family, I was both flailing and failing. I would come home from work and sit on the steps outside my front door and cry until I could not breathe anymore. I was alone and adrift. I don't know what made me ask for help, but I did.
I was wrong. I was not alone. Doctors are dying. They are burnt out, depressed and scared. Scared to get help.
In 2014, one of my closest friends and gifted colleagues died after a terrible battle with his own demons. I will never forgive myself for not being able to help him more. After he died, I made a promise that I would do everything I could to take care of us, the carers, who are dropping like flies with depression and anxiety.
Being a doctor should not have to come with a health warning.
In 2013, national mental health institution Beyond Blue conducted a survey of Australian doctors and medical students. The results were alarming. Australian doctors reported psychological stress, depression and suicidal thoughts at rates twice as high as the general population.
Physicians are twice as likely to commit suicide than the rest of the population, with rates even higher for female doctors. The incredible stress, often social isolation, and access to extremely lethal methods of suicide such as drugs, all culminate in a perfect storm. In the United States, an estimated 400 physicians commit suicide every year. In Australia, a quarter of doctors have had thoughts of suicide in the past 12 months.
Despite all this concerning data, the medical profession has been slow at stepping up and improving its own mental health. A shroud of secrecy exists around the mental health of doctors -- for fear of judgement by colleagues or judgement by ourselves.
We define ourselves as 'doctors' above all else, so the possibility of risking our career to ask for help is too great. Punishment is a real possibility in a professional and personal sense. In a relatively small and sometimes over-familiar community such as medicine, the stigma of depression can follow you for a long time.
Ironically, we are a profession that would make no hesitation in offering help to a patient with severe depression. However, when it comes to our own problems, we are hiding behind bravado or excuses.
Some of us self-medicate with alcohol: alcohol abuse or dependence affectsup to a quarter of surgeons in the United States. Rather than putting up our hands to ask for and accept help, the shame is too intense.
Compounding this intense shame, we have a system that can fail us. Hospitals and specialty training programs are still relatively inflexible with requirements for doctors, time off or a need to achieve work-life balance.
However, there is also a soft but growing acknowledgement that the stiff-upper-lip approach most doctors take to their own well-being is not healthy. Moves are being made to provide better support to young doctors who may be especially affected by mental illness and are at great risk. Around the world, working hour regulations and provision of support programs have begun.
Medicine is desperately in need of a culture change, one where being emotionally distant and unavailable is no longer the norm. We are not superheroes, invincible to the incredible stress that comes with this job. Asking for help should be seen as a sign of great bravery and strength, not weakness or failure.
I hate speaking of my own struggles. I hate knowing that I could get sick again one day and once again experience intense powerlessness. But since I did, just quietly, people have opened up to me and we have bonded over shared experiences and the knowledge that we are not as alone as we feel.
This is how we, as a profession and as a society, are going to tackle mental illness. Our doctors deserve the best possible care and compassion. We give so much of ourselves to the pursuit of excellence in this profession that, sometimes, not much is left behind.
It is time to start caring for our carers.