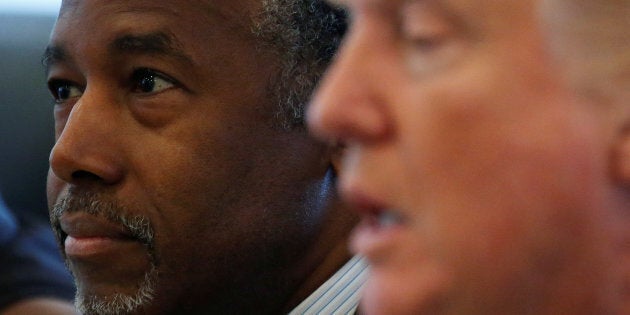 President-elect Donald Trump is nominating Ben Carson, a retired neurosurgeon who has never held public office, as his secretary of housing and urban development.
In a statement released Monday, Trump called Carson a "distinguished national leader" with a "brilliant mind."
Carson, who ran against Trump in the 2016 Republican primary, told Fox News last month that he was considering the position. This was a shift from his earlier assertion that he wasn't qualified for a Cabinet position.
Trump's choice to nominate Carson is just the latest confirmation that he's prioritizing loyalty over government experience. One of the president-elect's first hirings was Steve Bannon, a former Breitbart executive with ties to white nationalists. Bannon was a close adviser to Trump during the campaign.
He is also tapping a billionaire former coal mine owner to be commerce secretary and Hollywood financier for Treasury secretary.
As HUD chief, Carson would be tasked with setting housing policies for the Trump administration, including access to affordable housing and community development. Carson's comments on certain anti-discrimination policies ― he has called one plan a "mandated social-engineering scheme" ― are likely to worry some fair housing advocates.
"These government-engineered attempts to legislate racial equality create consequences that often make matters worse," Carson wrote in a Washington Times piece last year. "There are reasonable ways to use housing policy to enhance the opportunities available to lower-income citizens, but based on the history of failed socialist experiments in this country, entrusting the government to get it right can prove downright dangerous."
As The Daily Beast points out, as HUD secretary, "Carson would, in part, be the very person entrusted to get it right."