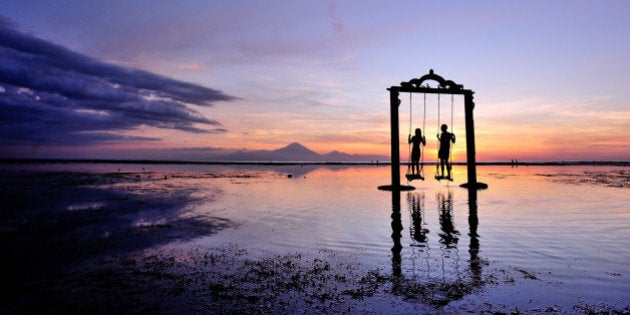 Gone are the days of travelling somewhere for the sights and culture. No, new research suggests for some Australians at least, the sole reason we travel is to seek or rekindle love and romance.
Lastminute.com.au has revealed one in five Australians have taken a last minute holiday in an effort to save their relationship while one in six have chosen a particular holiday destination specifically based on the potential to have a fling there.
Of those looking for romance, more than 70 percent were successful and one in 10 Aussies who met on a holiday "fling-cation" are still together.
"The holiday fling version of ourselves is often carefree, relaxed and that 'ready to go with the flow' person we often lose in our everyday lives," Dr Nikki Goldstein, dating and relationship expert and sexologist said.
Bali took out the top international destination for Aussies looking for a holiday hook-up followed by the U.S. (mainland) and Hawaii, while the Gold Coast is the number one domestic destination with Sydney and Melbourne taking second and third place respectively.
Goldstein said taking a trip when your relationship is breaking down is a good thing. After all, the excitement of trying something new together produces serotonin and dopamine in our brains -- the same chemicals associated with happiness and falling in love.
However, regardless of whether the relationship works out or not, Goldstein said taking a trip is a good opportunity for both of you to gain some perspective.
"Whether you stay together or things don't work out, sometimes space away from reality and your busy life can help you gain perspective on your relationship without interference, stress or anxiety," Goldstein said.
Top international destinations Australians head to for a fling-cation:
The top domestic destinations Australians head to when looking for a fling-cation: