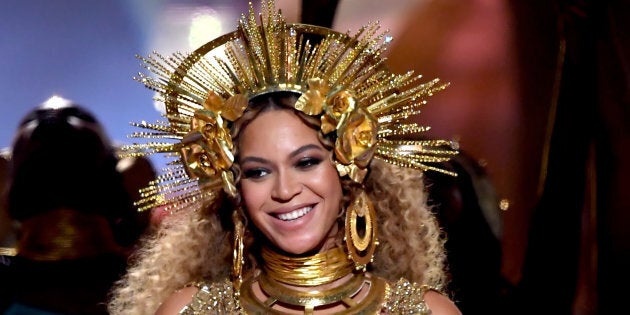 Beyoncé Knowles has given a showstopping performance at the 59th Annual Grammy Awards offering an epic homage to motherhood in what is being described as her most iconic performance yet.
Performing the songs "Love Drought" and "Sandcastles" from her latest album and surrounded by dancers dressed in earthy-coloured robes, Knowles appeared to be nothing less than a human goddess. And the fact she was rubbing her belly while dancing (and sitting down) just made it all the sweeter.
Twitter quickly exploded and celebrities attending the Los Angeles event were quick to let the world know what they'd just missed.
At the end of her performance, Knowles stared directly into the camera as a recording of her voice sounded with a message to women that "if we're going to heal, let it be glorious".
The camera panned to her husband Jay-Z, daughter Blue Ivy and sister Solange Knowles, who were naturally proud as punch.
Following her performance Knowles took home her first televised Grammy of the night, for Best Urban Contemporary Album and gave a powerful acceptance speech further contextualising her performance and album, 'Lemonade'.
Reading from a gold plated card that matched her gown she said:
"We all experience pain and loss, and often we become inaudible. My intention for the film and album was to create a body of work that would give voice to our pain, our struggles, our darkness and our history. To confront issues that make us uncomfortable. It's important to me to show images to my children that reflect their beauty, so that they can grow up in a world where they can look in a mirror—first to their own families as well as the news, the Super Bowl, the Olympics, the White House, and the Grammys—and see themselves and have no doubt that they're beautiful, intelligent, and capable. This is something I want for every child of every race, and I feel it's vital that we learn from the past and recognize our tendencies to repeat our mistakes."
It's true. The Beyhive can do no wrong.
ALSO ON HUFFPOST AUSTRALIA