A man who fled a Geelong store with a stuffed turtle under his arm has been captured in a dramatic citizens' arrest involving a freight train, a bicycle and a homemade pipe bomb.
The bizarre series of events began with the man, aged in his late 20s, walking out of the How Bazaar antiques store in North Geelong with the taxidermied turtle under his arm at around 1:15pm on Thursday.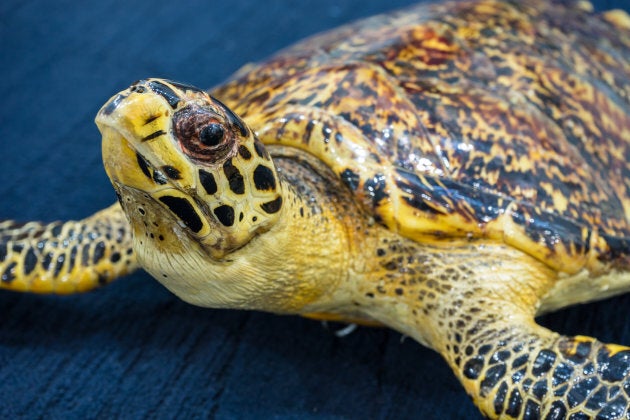 When a friend of store owner Peter Summers walked in asking if the man had bought the turtle, Summers realised what had happened. He gave chase in his ute while employee Jarrod set off after the man on foot, catching up with him around 500 metres from the store on Separation Street.
"My brother threw me the keys to my car. I got in the car and drove around the corner, and just around the corner there's a train line and a freight train was coming through," Summers told radio station 3AW.
"(The train) cut off his getaway. I went one way, Jarrod ran around the other way and we boxed him in.
"He tried to get away from me and hit the front of my car and fell off and Jarrod jumped him."
Jarrod held the man down while Summers called 000 but delays on the line meant he couldn't get through. Next thing they knew, the man had freed himself and was allegedly brandishing what Summers described as a homemade pipe bomb.
"He was trying to screw it -- that's when we realised he was trying to set it off," Summers told the Geelong Advertiser.
With the help of nearby automotive store owner Peter Murphy, the men tied the alleged thief up with cable ties and held him down until police arrived.
Police have confirmed that the man was in possession of a pipe bomb. They seized the weapon and the turtle, which were taken to Geelong Police Station for further analysis.
Paramedics treated the alleged thief at the scene, before taking him to Geelong hospital.
Summers told 3AW that, as well as the large taxidermied turtle, the man's pockets were full of allegedly stolen bric-a-brac from the antiques shop.
Police have arrested the man, but are yet to lay charges.
ALSO ON HUFFPOST AUSTRALIA