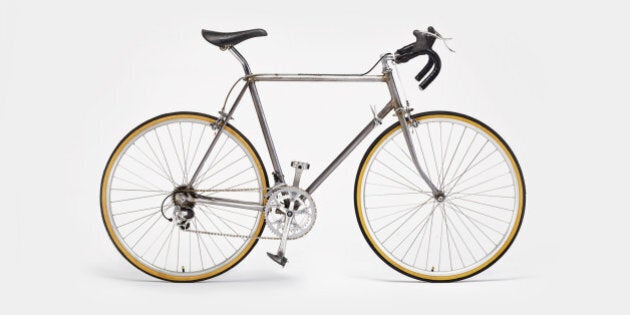 This bike is very different to any other bike that you may have ridden -- it randomly sways from side to side, its gears slip unpredictably and holding onto the handlebars will give you pins and needles.
The reason for this is simple -- the bike has Multiple Sclerosis.
MS is a disease that currently affects more than 23,000 Australians, interfering with nerve impulses within the brain, spinal cord and optic nerves.
The disease's symptoms present very differently for each patient, making it hard to explain.
For this reason, Paralympian gold medallist Carol Cooke AM led a team of neurologists, physiotherapists, bike mechanics and people living with MS to build a bike to improve public awareness and understanding of the disease.
Cooke was diagnosed with MS in 1998 and told The Huffington Post Australia she could still recall the exact moment.
"I was diagnosed on 23 April 1998 at 2:15pm, I remember it exactly," she told The Huffington Post Australia.
However, it was while she was still working full time after receiving her diagnosis that she recognised the disease she was living with was hard for many people to understand.
"While I was employed full time I was working in logistics and they expected you to put in long hours," she said.
"I would get to a point and say 'I had to leave' because I was so fatigued.
"My co-workers would look at me and say 'well I'm tired too you know,' but it's not really being tired, there wasn't an understanding and I think that's why it is such an invisible disease."
She said the bike too didn't look like it had 'anything wrong with it'.
"If you look at it, it looks like a normal bike until you really closely look.
"We all look very good and we look healthy but it's the symptoms we deal with on a daily basis that people don't get."
In order to create the bike, which began as a concept by Grey Advertising, Cooke, along with a team of people, sat down one night and began to brainstorm ideas on how certain symptoms could be replicated.
"It was quite amazing, it was only a couple of weeks later and they had it done," she said.
The bike's frame has been deliberately misaligned, while heavy materials used in the irregular wheels add to its resistance, requiring the rider to use all their strength in order to move it forward.
"That links to fatigue and trying to get up," Cooke said.
"With fatigue and MS you can wake up in the morning and feel like there's concrete all over you. It's going to be tough to get the bike up and running."
The rider's ability to control the speed and direction of the bike is also impaired through broken teeth in the cog that causes its gears to slip unpredictably.
The seat is incorrectly designed for distance riding and adjusted to a level that causes discomfort, becoming increasingly painful to sit on over time.
In addition to this, ball bearings have been hidden underneath the handlebars to accentuate vibrations though the rider's upper body. This will lead to pins and needles and eventually progress to complete numbness.
There's also more that is still to be added to the bike to mimic the experience of tinnitus.
"Tinnitus is common to people with MS, they are actually making the bike have this whirring noise non-stop, it will be really annoying," Cooke said.
She said it was a powerful educational tool that has enabled people to get a glimpse into what sufferers of MS deal with on a daily basis.
"It's not like living with it full time because you can get off the bike and things go back to normal," Cooke said.
"Unfortunately, we cannot get off our lives."
Cyclists and the general public are also currently being invited to take up the challenge of riding the bike in the upcoming MS Melbourne Cycle on Sunday, March 6 but so far, nobody has stepped forward.
"I put a social media call out to a lot of elite cyclists -- we've had no takers," Cooke said.
Whether anybody could do 50 kilometres on it, I don't know, but just to give it a go would be great."
Despite this, there is no denying that it has still been successful in raising awareness of MS.
"I've been contacted in Spanish by a woman whose son has MS in Mexico -- she has seen the video and she says she has contacted the MS society there and they want to make one so that they can educate people there," Cooke said.
"The reaction has been fantastic – I've had that many people through social media who have said to me what an amazing way it is to educate people."