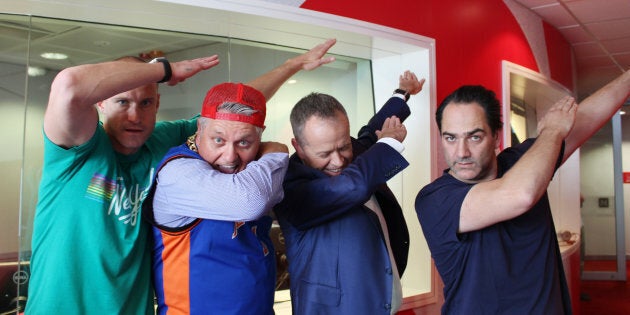 Malcolm Turnbull and Bill Shorten have been battling for supremacy over the nation's FM airwaves in a media strategy meant to engage with ordinary voters, but the Labor leader engaged in a radio battle of a different kind on Friday -- dropping raps like a daggy dad against an ever daggier dad in talkback king Ray Hadley.
There's a bit to unpack here so bear with us.
We're not exactly sure if he writes his own raps or uses a ghost writer. But while Bill's flows weren't the smoothest, he did manage to sneak in a solid burn or two on the Government, rhyming "our economy's in debt but Malcolm's just chillin', hey Malcolm can you lend us a couple million?" and spitting, "Will I rap again? It's anyone's guess, but there's more chance of Tony Abbott voting yes".
Shorten has recently dropped his patented zingers from his public speeches, but bringing them back saw him present a daggy, relatable side on radio. But the bigger surprise was still to come, with talkback radio star Ray Hadley dropping in to battle the Labor leader -- basketball jersey, backwards cap, gold chain and all.
"What's doing homie," the 63-year-old AM radio host said, before launching into an even worse rap than Shorten, which included calling Turnbull a "number one wanker".
The hosts, Shorten and Hadley then finished off with a dab. It's vintage viewing. Happy Friday.