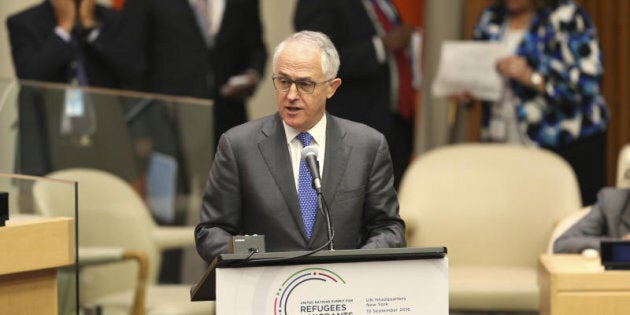 CANBERRA -- Opposition Leader Bill Shorten has accused the Prime Minister of reheating Tony Abbott's refugee policy "leftovers" while "strutting on the world stage."
Malcolm Turnbull has used an address at a special UN summit convened by U.S. President Barack Obama to announce an extra $130 million in aid and make permanent a previous announcement of 5,000 more places in Australia's annual humanitarian refugee intake.
The Prime Minister has announced some refugees will now come from Central American camps in Costa Rica, while making permanent the 2015 Budget announcement that Australia's annual humanitarian refugee target will lift mid-2018 from 13,750 to 18,750 places.
The yet to be filled intake of 12,000 refugees from war torn Syria and Iraq remains untouched as a one off deal.
Labor Leader Bill Shorten has joined aid groups Wednesday in criticising Mr Turnbull for inaction.
"This is just a hoax," he told reporters in Adelaide.
"Malcolm Turnbull has flown to New York to re-announce Tony Abbott's policies."
"Is this really the best that Malcolm Turnbull can do on the world stage? Reheat the leftovers of Tony Abbott's policy two years later in New York?
In addition to the new permanent refugee places, the Prime Minister announced $130 million over three years for migration agencies and to aid displaced people in host countries.
"This multi-year commitment will give certainty to facilitate longer term planning," he said.
Mr Turnbull told the UN the refugee crisis -- in which an estimated 63 million forcibly displaced people are on the move -- is "complex" and requires a "full spectrum of responses."
"As leaders we're responsible for helping those who are most vulnerable and restoring the integrity of migration systems," he said.
"Australia's approach is to be both principled and pragmatic."
"Our strategy addresses all parts of the problem, employing strong border protection policies, a very tough stance on people smugglers, while tackling the causes of displacement with a generous and compassionate re-settlement program supporting refugees in our communities."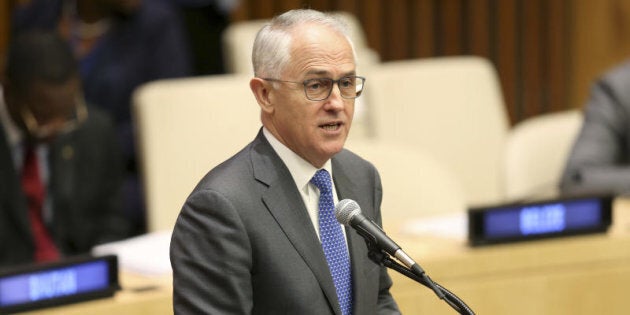 The Prime Minister said the strict Australian model of border control has "increased public confidence" and is "absolutely critical".
"Strong borders are not just about security," Mr Turnbull said.
"They are crucial to ensuring social harmony and public support for migration domestically."
Under Australia's strict border protection policies, asylum seekers who come to Australia by boat are being refused entry to Australia and are being processed and detained on PNG's Manus Island and Nauru.
If we shut Manus & Nauru we'd save enough money to help many more refugees and could increase intake well above 19k.

— Sarah Hanson-Young (@sarahinthesen8) September 20, 2016
Mr Shorten has criticised the Prime Minister for failing to use the UN stage to address their fate.
"We have nearly 2,000 people trapped in almost indefinite detention on Manus and Nauru," he said.
"When will the Turnbull government actually negotiate a regional resettlement arrangement with another nation so that we're not keeping people in indefinite detention?"
"Mr Turnbull needs to do more than just re-announce Tony Abbott's policies. He needs to come up with a deal for another country."
"This remote processing model is able to take away the benefit being offered by people smugglers, reduce or eliminate deaths at sea and ensure that states can control their borders," he told the UN summit.
"And at the same time ensure that people in need are granted protection."