An AirAsia X flight has been turned back after taking off from Australia following a suspected bird strike -- a problem aviation experts say is a growing threat to airlines and passengers worldwide.
Flight D7207 left the Gold Coast airport bound for Malaysia at 10:20pm local time on Monday night, but within minutes of take-off passengers reported that the plane began vibrating.
Some people were crying and calling out 'oh my god oh my god'."
Joga was sitting on the right-hand side, and said he heard "four or five bangs" coming from the right-side engine.
"I could see an orange light coming from the windows," he said.
The flight "was diverted after experiencing a suspected bird strike to its starboard engine shortly after take-off", AirAsia confirmed in an official statement.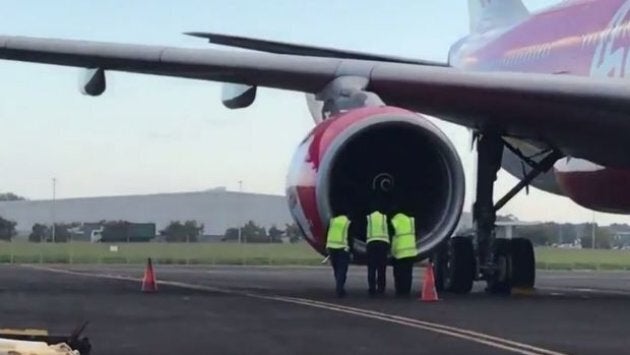 The remains of two birds were found on the runway, according to the budget airline.
Another passenger Eric Lim -- who posted photos and video on Facebook about the incident -- described the moment the plane's right-side engine "exploded".
"Successive sparks boom boom boom went off," he said.
"Some people were crying and calling out 'oh my god oh my god'."
The plane was diverted to Brisbane Airport, where it landed at 11:33pm -- an hour and 13 minutes after take-off. None of the 345 passengers and 14 crew on board were harmed.
It is the second AirAsia flight to be grounded in under a fortnight.
AirAsia was forced to defend its safety reputation after Kuala Lumpur-bound flight D7237 had to return to Perth 90 minutes after take-off when it began shaking "like a washing machine", in what the Australian Transport Safety Bureau classified as a "serious incident".
It's understood that incident, which occurred on Sunday June 25, was caused by the failure of a fan blade, which destroyed hydraulic components and an oil pump before being ingested by the engine.
AirAsia has blamed the latest incident on "a suspected bird strike", saying in an official statement that birds flying into the right-side engine shortly after take-off are believed to have caused the engine problems.
"The remains of two birds were found on the runway," the statement read.
Some in the aviation industry have cast doubt on AirAsia's explanation for Monday's incident, which, like last week's grounding in Perth, is also believed to have involved damaged or missing fan blades.
Strategic Aviation Solutions chairman Neil Hansford said he did not believe a bird strike would cause the kind of damage seen to flight D7207.
"If I look at the engine here, there's blades missing, which I find a little suspicious," he told ABC Radio Brisbane.
But leading Australian aviation expert Geoffrey Thomas said the circumstances surrounding the crash were consistent with a bird strike, and the birds found on the runway were too much of a coincidence.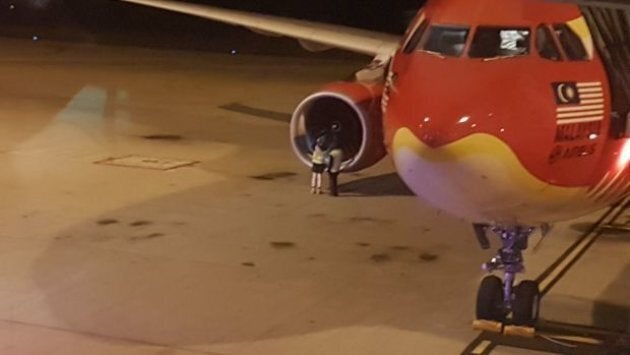 "Aircraft engines are designed to ingest birds and keep going, but there are limits to how many birds and what size. A small starling or a sparrow, will be ingested into the engine and you would hardly notice it, but if you have large birds, it becomes a major problem," he told HuffPost Australia.
He said commercial aircraft engines were tested to handle up to 16 small birds (such as sparrows) or seven medium birds (like pigeons) but any more than one large bird (i.e. weighing more than 1.35 kilograms) could destroy a plane engine.
"I don't know what size (the birds) were but if they have found the remains on the runway, they must have been of a significant size and that has caused the lose of this engine," Thomas told HuffPost Australia.
Thomas said that the flames which were observed erupting from the affected engine were also consistent with a bird strike.
He also noted that bird strikes were most likely to occur during take-off or landing -- despite the great lengths airlines go to to discourage bird life on runways -- because most birds fly at lower altitudes.
"My belief is that birds were the initial factor and the damage done may have then caused secondary problems and that may be the loud bangs that were heard about five minutes after take-off," Thomas said.
When we think of dangerous wildlife, birds generally aren't high on the list, but in the sky, they are the number one threat.
Bird strikes are a growing problem for airlines around the world.
Approximately 67,000 bird strikes were recorded over three years between 2011 and 2014, with the number of collisions increasing by around 10 percent each year, Thomas said. While 65 percent of these cause little or no damage to the aircraft, that's still thousands of planes damaged due to birds each year.
As well as endangering lives, they cause $1.2 US billion worth of damage to aircraft each year globally.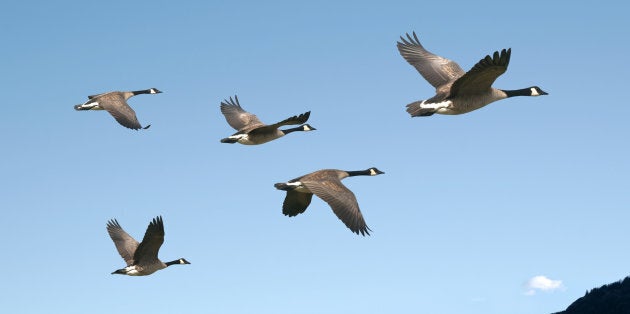 In 2009, the pilot of US Airways Flight 1549 saved the lives of 155 passengers when he managed to successfully make an emergency landing into the Hudson River after a large flock of 3.5 kilogram geese took out both engines.
"(Birds) have always been a problem, but they are more of a problem today, as aircraft are far quieter than they have ever been so it's difficult for birds to hear them approach," Thomas explained.
Environmental improvements, such as the discontinuation of harmful pesticides like DDT, have also resulted in larger numbers of flocking birds. Combined with a rise in air traffic, this means the sky is becoming a more crowded place than ever.
So what can we do about it?
Airports and aviation authorities already go to great lengths to discourage bird life.
Ever wondered why there's not much in the way of bushland, ponds or lakes around airports?
That's all part of discouraging birds. Even the lights and posts at airports are fitted with spikes to prevent birds from roosting there, and airports also ensure there's nothing nearby for birds to feed on.
But ultimately, there's no way to lock birds out of airports entirely.
"Airports... work with biologists to try to reduce the potential for bird strikes, but the reality is that you're going to get bird strikes, and you can sometimes get them at very high altitudes," Thomas said.
Planes undergo extensive testing to ensure they are capable of ingesting a significant number of birds, but numerous large birds, such as the Canada geese which brought down the US Airways flight in 2009, can prove problematic.
ALSO ON HUFFPOST AUSTRALIA