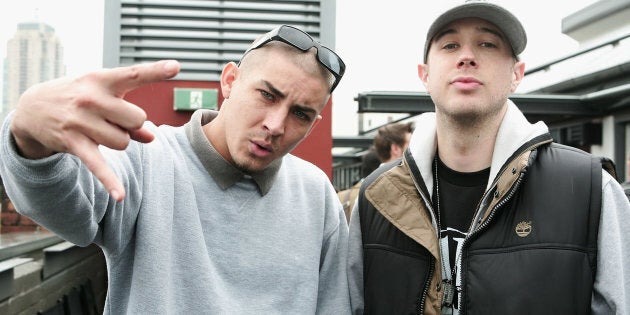 Gold Coast stuntman Johann Ofner, 28, died in a Brisbane nightclub after being shot with a gun that was said to have been "loaded with blanks". He had been working with the popular musical group on the set of their 'Friend Like You' music video clip at the time of the incident.
Group member Jonathan Notley, better known by his stage name MC Bliss, told the ABC's 7.30 program on Thursday the incident was "an absolute tragedy".
"It was an absolute tragedy and something that was really tough for everyone, obviously," he said.
"[For] his friends and family foremost, but also us and the crew working on the clip and everything -- It hit us like a tonne of bricks.
"[For] us as a band, it was important for us to do something or all we could for the family and let them know we were there for them."
"We were able to do a benefit concert for his daughter. It was about his friends speaking about him and a tribute to him, to capture some of the night, it was a special thing," Notley said.
"So his friends and family loved it. For us that means the world that we were able to at least do something positive like that."
In a statement released by Bliss N Eso at the time, Notley and fellow band members Max MacKinnon and Tarik Ejjamai said Ofner's death had left them "devastated".
"We continue to express our support and condolences to the family and friends of those so deeply affected by this sad event and appreciate your on-going understanding in this incredibly difficult time," the statement read.
The band's management also released a separate statement in January that shed light on the details of the incident.
"Johann was tragically fatally injured when a prop gun was discharged as part of filming a scene in Bliss n Eso's video clip. The gun was loaded with blanks, not live ammunition," the statement read.
"The exact cause of Johann's fatal injury is still to be confirmed, but as the gun was loaded with blanks, not live ammunition, the cause was not a bullet or live round. All of the appropriate permits were in place for the filming."
ALSO ON HUFFPOST AUSTRALIA