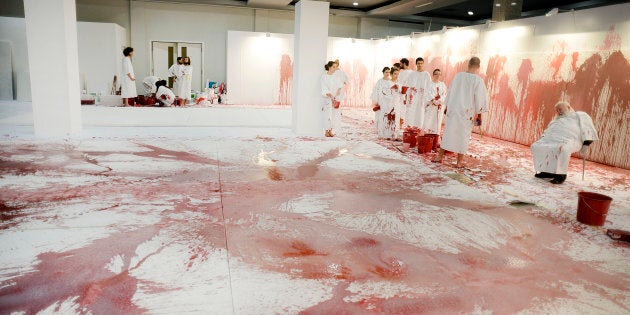 Art enthusiasts and animal rights activists have squared off in Tasmania at Dark Mofo's most anticipated and polarising performance.
The protest on Saturday is taking aim at artist Hermann Nitsch's controversial 150.Action, a three-hour show billed as a "bloody sacrificial ritual".
The arresting work from the 78-year-old avant-garde artist features 500 litres of bull blood as well as an actual slaughtered bull.
It is performed by the "patriarch of Viennese Actionism, his devoted disciples and an orchestra," Dark Mofo organisers have said.
Saturday's rally against the exhibition, a key part of the Museum of Old and New Art's annual festival, is not the first attempt by activists to shut it down.
More that 21,000 people signed a petition against the show and tickets were reallocated after it was revealed some buyers were planning to disrupt the event.
Nitsch, who has been performing his pagan 'actions' since the 1960s, told The Guardian this week that he wanted to "show with my work everything that is".
Nitsch developed his art in the late 50s and early 60s following the devastation caused in Europe following World War Two and he has previously said that all art should tear "the borders apart".
ALSO ON HUFFPOST AUSTRALIA