Just in case you weren't already aware, Dom and Adrian (Christian Van Vuuren and Nick Boshier) of the Bondi Hipsters have slightly different life goals to that of five-time Olympic gold medalist Ian Thorpe.
"Some people decide they want to swim for living, other people set up a fashion label and their own art space and host silent poetry nights," Dom points out in the latest video from the viral duo.
'So what, you want to be independent and buy a bunch of houses because you won some gold medals but does that make you better than a person who has to borrow money off their Dad and work in a bar and do acting jobs? Some people think it's better to be okay at a whole bunch of things rather than be really good at one semi-pointless thing."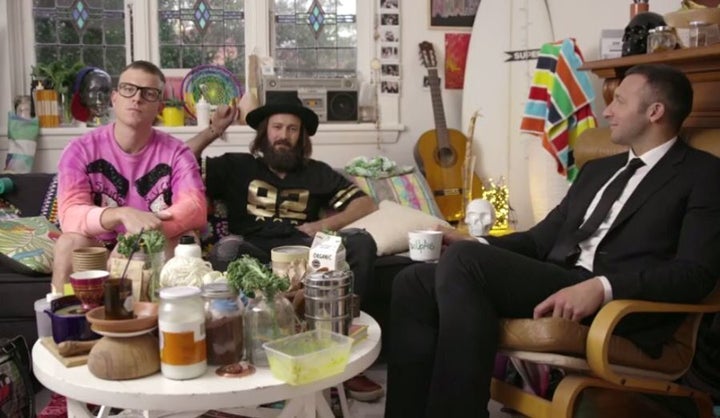 Once again showing he's about 8 billion times more fun when he's not swimming competitively, Thorpie has teamed up with the hipsters to promote The Australian Olympic Team supporter hahshtahg #FanUpAUS ahead of the 2016 Rio Games (eight days to go, kids).
Playing their flatmate, a suited-up Thorpie calmly sips from a #FanUpAUS mug as Dom and Adrian debate the merits of being an Olympic swimmer, the meaning of time, and pose the all-important question: "Seriously though, for one sec, who calls their son Ian?"
Check out the full (hilarious) video above, or, if you want to take a trip down memory lane, you can revisit the last time the hipsters went to the Olympics in 2012, below.