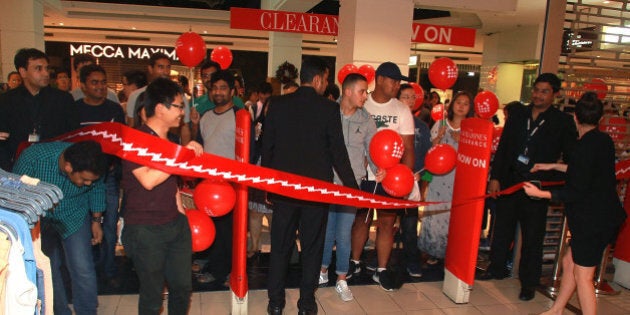 Australian shoppers are expected to spend a massive $2.3 billion in the 24 hours of Boxing Day, with shopping precincts and major shopping centres due to receive the greatest foot traffic.
Keen bargain hunters are advised to form queues outside some of the more popular stores in the hope of grabbing the best deals.
Russell Zimmerman, Executive Director of the Australian Retailers Association, told the Huffington Post Australia people should be courteous, whether they're in the carpark or on the escalators.
"Always be courteous. You just need to stand back and let people take their turn. You don't need to rush, there are plenty of bargains for everybody. I see many people getting irate waiting for somebody to pack kids and shopping into cars. It takes time to get kids in the car so be patient and realise that people want to get out as quickly as you want to get in," Zimmerman said.
"Also remember that a bargain is not a bargain if you don't want it.
"Sometimes you might get home, realise you bought something you didn't really want but bought it because it's on special. Then you might take it back to the shop and get upset if they won't refund it. Some retailers have signs that say 'Please choose carefully as we don't refund.' It becomes an issue when people demand a refund because they didn't see the sign. So always choose carefully because some retailers may not take back a product if it's the wrong decision."
In Victoria, police are warning pedestrians to be more aware of their surroundings and avoid accidents in the CBD.
Acting Inspector Mick Willmot wants shoppers to watch out for the most 'dangerous thing' in the CBD -- pedestrians armed with mobile phones.
"The mobile phones, the head phones, the electric devices, they cause distractions. We are seeing collisions with cars, with trams, with other people," Wilmott said.
Police will be cracking down on jaywalking in the Melbourne CBD and handing out $76 infringement notices to offenders.
"We don't apologise for issuing infringement notices, we'd rather see people be educated, we'd rather see people have an infringement notice, rather than go to the hospital."
Heavy crowds are expected to be experienced in key retail shopping precincts across Australia on Boxing Day, as shoppers flock to cash in on hefty discounts traditionally offered the day after Christmas.
Gabby Leibovich, founder of Catch of the Day, has shared his five secret tips for this Boxing Day season:
1. Unsubscribe to online stores' email alerts. The internet is congested with a lot of nonsense; online shopping is not any different. Use the spare time over the holidays to unsubscribe from all these websites that you never really use or even bother to open their emails.
2. Consider purchasing items that you might not need now, but will need in 2016. Boxing Day sales are a great opportunity to stock up on that present to Grandma, school party gifts and jump the queue to get some great bargains for back to work/school.
3. Know your clothing measurements. We've all been there. Your parcel arrives and the new garment or shoes do not fit perfectly. We all dread the return and exchange process, it's annoying when you buy from a retail shop, but much more when you need to ship it back. Know your size before purchasing, and if you're buying for other family members, keep their sizes available in your Notes section of your mobile.
4. Check the store's shipping fees and buy locally.
We all appreciate a bargain, but we can do the maths at the same time. I have looked at an American site this week and was quoted $85 on shipping fees for a $150 basket of clothing. Do your maths, know your market, calculate your savings, it's easy with Google. You will find that the best bargains are often with Australian stores, and with our dollar being stable around 71c, it's much more expensive to shop in the US than it used to be in the last 3 years.
Use the Boxing Day week to actually get some detox from shopping, mobile phones, laptops. The weather is perfect and there is so much happening in every city in terms of free and paid entertainment. You have to be mad to be spending that week running around between shops, fighting pushy customers and arguing over carparks in shopping centres. Go to the beach instead, have a bbq with your family and play with your kids. Shopping will still be there in January. I promise.