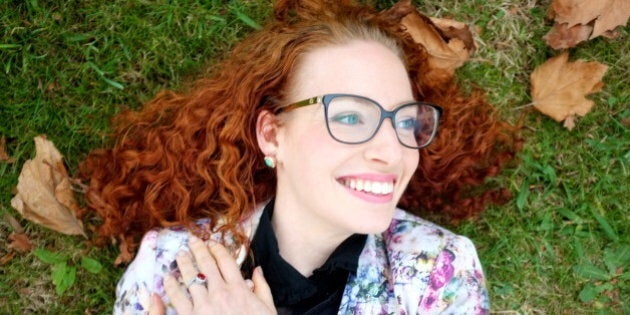 Looking back it seems destined, and maybe it was. Maybe from the very first time I put a yellow bow in my hair, the stars aligned in a particular way to bring me to where I am now. But waking up and realising I'm a part of one of the most well-known musical acts of all time - that I'm a Wiggle! - is as surprising and exciting today as it was three years ago when I officially became one.
I thought it was a practical joke. When, after touring with The Dorothy the Dinosaur show as Fairy Larissa and performing as a wiggly dancer for 18 months, Blue Wiggle and Wiggle creator Anthony came to me and said he wanted to put a girl in the group, and that girl was me. I said, 'Oh, that's funny. Good one, guys!' But he was serious, and as it dawned on me that I was about to step into such big shoes, one question soon became very important - what was I going to wear?
With The Wiggles, who you see on stage is who we are in real life. We're not actors playing a part, this is who we actually are. I'm a huge fan of vintage clothing, and I love the way dresses move when you dance, so wearing a skirt on stage was the obvious choice for me. I didn't realise at the time that it would become such a huge deal though; I was prepared for the pressure and interest we new Wiggles would garner, but that first year I was under a lot of scrutiny because of my gender, and yes, the fact I chose to wear a skirt.
It's funny that such a small thing can cause such a ruckus, but really, I think if I had been on the outside of the situation looking in, I would have felt the same way as a lot of people did about me joining the group. I'm an original fan - I'm 25 and The Wiggles turn 25 next year. I grew up with The Wiggles and was even captured in one of their early videos dancing in the aisles (there are those stars again!), so I can understand why some people, who hadn't seen the show yet, initially didn't like me - change is never easy.
But the children of today have little idea that we're not the founding members of the group (besides Anthony, of course), and now we have girls and boys dressing up for the shows like never before. It's all about big skirts, ballet tutus, yellow bows and coupling bow ties with dinosaur tails.
My background in dance, appreciation of music and language, studies at the Sydney Film School, and even my love of animals definitely helped walking the wonderful Wiggly path much easier. I was prepared for the hard work, the long months on the road touring, and the energy and imagination it takes to entertain a room full of excitable kids every single day. I expected all that. What I didn't expect was to fall even deeper in love with the group, and not only that, but to find the love of my life standing right next to me in a purple skivvy!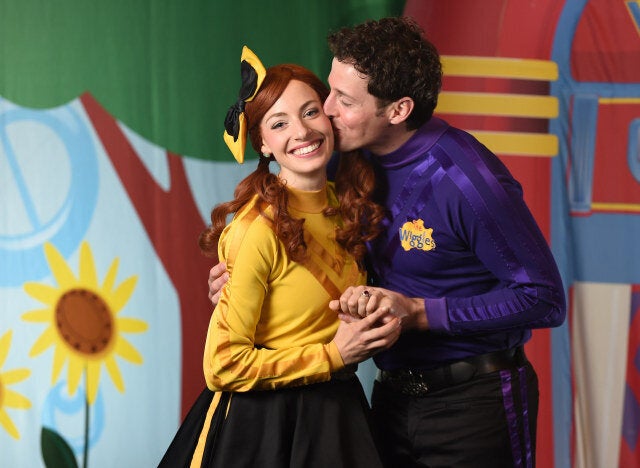 The response to Lachlan and I announcing our relationship, and shortly after, our engagement, has been incredible. We've been overwhelmed with well wishes, engagement cards, and little girls at our shows dressed with little yellow veils - it's phenomenal! In a sense it's become an entire year of celebration for us, and every city we visit for the first time since our engagement has been a celebration for the children, too. They're really getting into it, and I wish I could have them all at the wedding as flower girls and page boys!
It can be strange being looked up to and held in such high regard as we are - by both the children who love The Wiggles and their parents. But it's an incredible privilege. I'm so grateful to be doing something I love, but more than that, it's an honour to continue the work of the original Wiggles and bring education and music to a new generation of children. I feel very fortunate to be a part of bringing joy to so many people. You can't tell me that you don't feel at least a bit better after having a dance!
Maybe it was destined, or maybe it was years of dedication and hard work that have brought me to where I am now. I'd like to think it's a little of both, and as I travel the world with people I love, respect and admire, and as I stand on stage in front of a sea of smiling faces, there's one thing I definitely know for sure - yellow is the happiest colour.
Emma Watkins is the Yellow Wiggle alongside Purple Wiggle (and fiancé!) Lachy, Blue Wiggle Anthony and Red Wiggle Simon.
The Wiggles will tour the U.S. and Canada in September and October and Australia in November and December. Head to www.thewiggles.com for all the details.