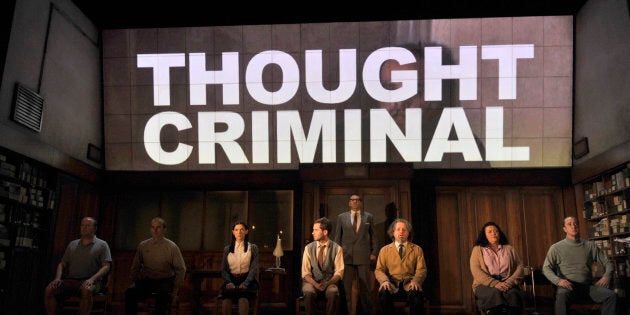 A play based on George Orwell's 1984 is headed to Broadway. If you prefer your dystopian narratives with uncanny resemblances to present-day political realities get your blood pumping, boy, is this the show for you!
Orwell's 1949 classic, which you may or may not have read in ninth grade, has spiked in popularity recently because of its eerie similarity to current events. Specifically, it's been compared to the Trump administration's penchant for propagating contradictory versions of the truth, a classic move for The Party, the fictional authoritarian regime in Orwell's novel.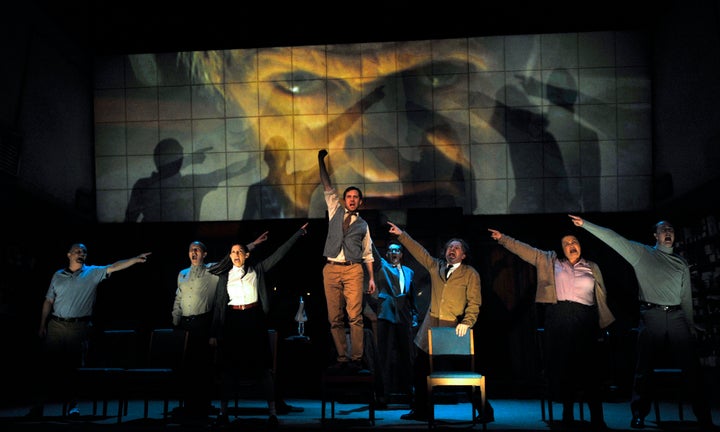 Just in time for its newfound relevance, the London stage adaptation of the current bestseller is coming to New York this summer. Starting June 22, you will be free to watch as gifted performers act their way through a regime that might begin to resemble, more and more, our political landscape. Yay!
The play, co-adapted and directed by Robert Icke and produced by Sonia Friedman and Scott Rudin, is slated to open the 2017-2018 Broadway season at the newly-restored Hudson Theater. Unfortunately, it will not be scored by David Bowie.
The timing for the coming play is right on point. Interest in Orwell's 1984 particularly mushroomed after Donald Trump advisor Kellyanne Conway described White House press secretary Sean Spicer's lies as "alternative facts."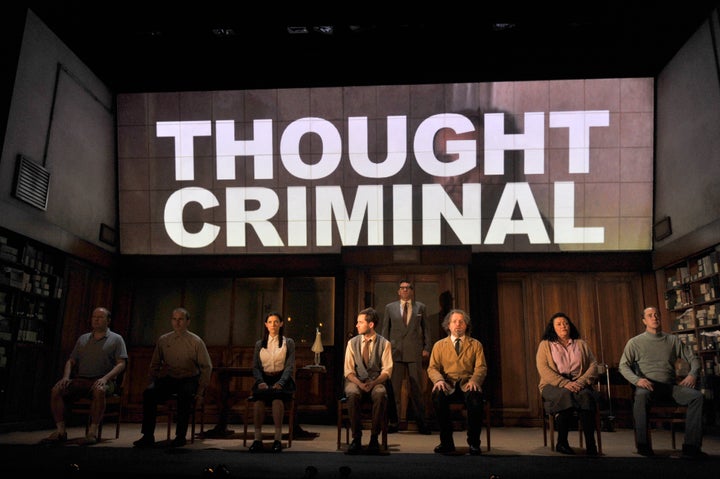 Many described her statement ― which encouraged followers to distrust their senses and trust their elected leaders instead ― as "Orwellian." Specifically, Conway's attempt to disguise a lie through convoluted language recalls 1984's practice of "doublethink," in which a political regime attempts suppress thought and rewrite history by convincing citizens that, as Orwell put it: "War is peace. Freedom is slavery. Ignorance is strength."
Thanks to Conway's unintended literary allusion, Amazon can hardly keep up with the growing demand for books depicting dystopian dictatorships. If you can't get your hands on a copy ― or, like our president, you don't read books ― a Broadway show might be the way to go.
Spoiler alert, though: It looks absolutely terrifying.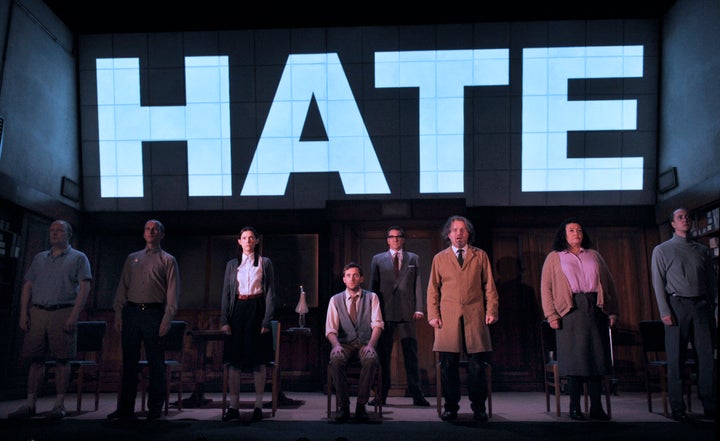 Want to read something other than 1984 but can't ignore the raging garbage fire that is political commentary right now? We've got a recommended reading list for that.
Correction: An earlier edition of this article misstated the play was a musical. We regret the error.