"I believe we still have a long way to go in television and media in regards to celebrating diversity but I think the shift is happening," Brooke told HuffPost Australia. "I would love to see a culturally diverse Bachelorette for 2021."
Brooke, whose mother is Sri Lankan and father Australian, said she faced racism after appearing on 'Survivor' in 2016 and then on 2019's all-stars version, which also starred this year's 'Bachelor' Locky Gilbert.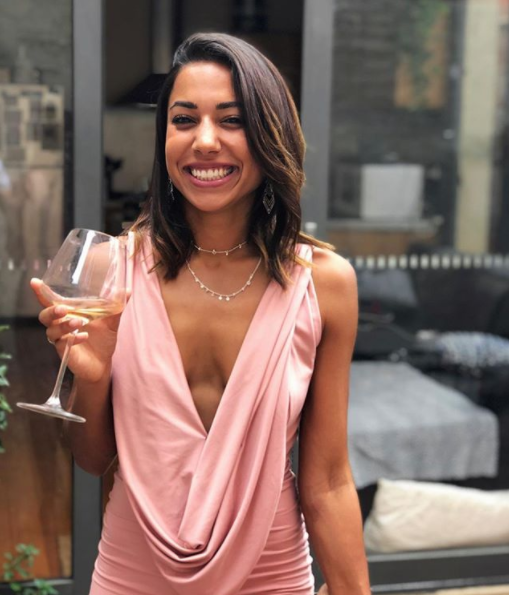 Racism After Survivor
"During my Survivor experience, I have had a few mean tweets about my colour which astounds me," said the 27-year-old. "I can't believe some people are still so behind."
However there were also some positive reactions, which made the Keep It Cleaner HIIT Master Trainer realise the example she can set for others.
"The greatest thing to come out of my appearance on Survivor, is the fact I have become a role model for younger women," she said.
"There is no better feeling than receiving messages from parents saying that they are so happy their child has someone like myself to look up to. I have received many messages from younger culturally diverse girls who have said 'I'm Sri Lankan too!'. I love sharing that sense of pride with them."
Brooke's Connection To 'The Bachelor'
Brooke dated Locky Gilbert for a few months while filming 'Survivor' in Fiji last year, however they split soon after after due to living in separate states.
"It was instant, like, you're my person," Brooke told TV WEEK in March about meeting Locky for the first time on the show.
"As soon as we got there [to Fiji, where Survivor is filmed], we were joined at the hip," she said.
Alluding to their breakup, she added, "It's a lot more difficult in the real world than it was out there".
A day after Locky was eliminated from the show in March, he was announced as the new 'Bachelor'.
In an interview with KIIS FM that week, he appeared to downplay his past with Brooke.
"Yeah um, Brooke's an amazing girl, but the thing is, it [Survivor] was filmed like five months ago," he said.
"So, it was quite a while ago and on the show you just want to have that person that you can fully trust, and like, if you don't you can kind of lose your mind out there. So, me and Brooke just connected, we had lots to talk about. I think that really helped me in the game."
'I Was Sadly Ashamed To Say I Was Sri Lankan'
Born and raised in Melbourne, Brooke said her Sri Lankan heritage "played a significant role" in her upbringing.
"My background is Australian/Sri Lankan. Believe it or not, my Dad is very fair with blonde hair and blue eyes," she said. "My Mum was born in Sri Lanka but moved to Australia when she was quite young."
Reminiscing of "unlimited supply of curry dishes" at her grandmother's house and "Sri Lankan aunties pinch my cheeks", Brooke said it wasn't all easy growing up biracial in Australia.
"I can remember vividly being picked on in primary school for my colour. My best friend Kelly used to fight back to the bullies for me because I would just let it slide," she said.
"There were times where my dad had to visit the school due to cruel comments that kids had made. I'd like to think that kids are more kind these days but I do believe there is still so much education needed within schools about different cultures and what is right and wrong."
When people asked, 'Where are you from?', she was entrenched in shame.
"In my teens, I used to shy away from this question or reply with fake answers as I was sadly ashamed to say I was Sri Lankan. That's actually so sad to say," she admitted.
Reconciling with her cultural identity has taken time, but now she couldn't be more proud of who she is.
"Now that I've grown up, I love talking about it! It adds a little more mystery to who I am. I am really proud of my family and my heritage."