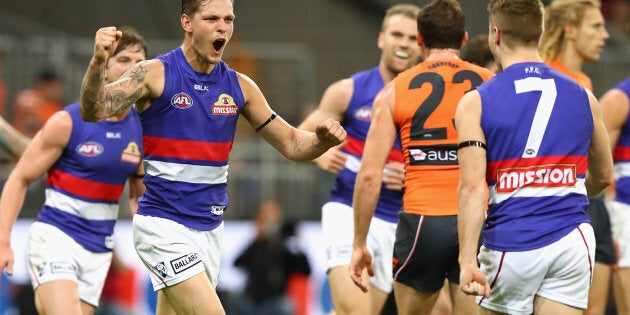 They've done it. 20,090 days since they were last there, the Western Bulldogs are into an AFL grand final. The Bulldogs beat the home team, the GWS Giants, 13.11 (89) to 12.11 (83), coming from 14 points down in the final quarter.
This was the fast, furious footy final it always promised to be. The young Bulldogs, short on stars but long on fast legs and enthusiasm, had run Hawthorn off their feet last week. The Giants did the same to the Swans in their previous match a week earlier, surging away after an almost-deadlocked first half.
So it was that two tough, fast, hugely energetic teams facing off at a boutique stadium in a part of Sydney generally thought of as rugby league heartland. And what a show of Australian football they put on.
There was nothing in this match all night. Nothing at all. The biggest lead all night was 14 points but the lead changed several times. It was a brutal game too. Inspirational Giants co-captain Callan Ward -- a former Bulldog who was booed by the huge contingent of visiting fans at every touch -- was knocked out by an accidental knee to the head early.
Bulldogs ruckman Jordan Roughead also took no further part in the game after suffering an eye injury after a ball was kicked really hard into his face. Ouch. There was also constant niggle throughout the game, but while all that was going on, some fantastic football was played by both sides.
And then the final quarter. You knew it would come down to the last quarter, and so it proved. The Giants were up by one at the final change. They kicked the first two majors of the final quarter, establishing that game-high 14 point buffer.
But the Dogs came back. A goal, then a brace of behinds, then a beautiful running goal to one of their few genuine superstars, Marcus Bontempelli, put them in front. They never relinquished the lead.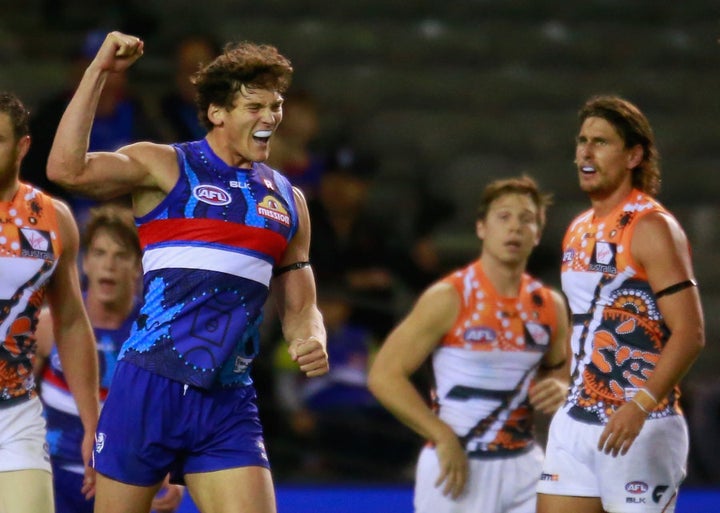 This is an incredible result for one of Australia's most maligned footy clubs in any code. That 20,090 days figure is the time that has elapsed since the Dogs made a grand final -- which they lost. But you have to go back another seven years all the way to when they won the flag.
That 1954 premiership is the only one they've ever won. The Bulldogs are much more famous for losing than winning and have on more than one occasion been celebrated as loveable losers in popular culture, most memorably in the 1997 documentary Year of The Dogs, which chronicled the hapless team's terrible 1996 season.
This has been a team only a mother or a true fan could love down the years. But this year they've been terrific. They finished seventh after the regular season, yet were only two wins behind minor premiers Sydney. It was that kind of bunched season. No clear runaway leader. Three-time premier Hawthorn fading. A year for someone to rise. But who?
Most pundits said it would be the Giants. They were wrong.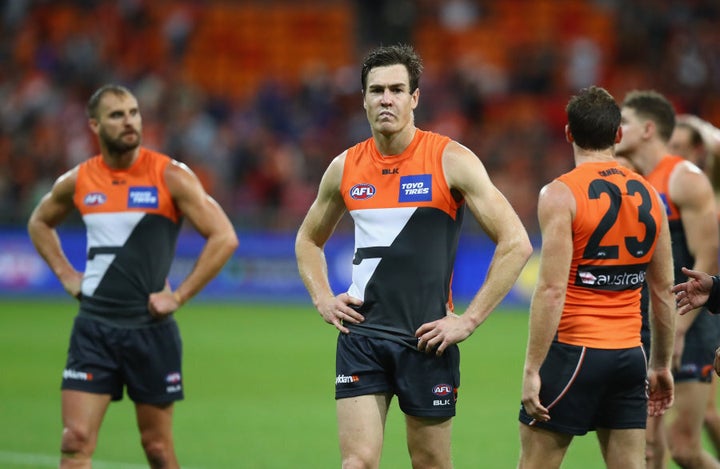 Toby Greene and Tom Scully were terrific for the hosts, but one or two key Giants never really fired -- especially big forward Jeremy Cameron. In the final quarter the Giants dropped a couple of key marks. It just wasn't quite their night. Just.
So the 2016 AFL grand final will now be Dogs versus Swans, experienced grand final campaigners against modern day newbies, Sydney versus Melbourne. Next Saturday can't come quickly enough.