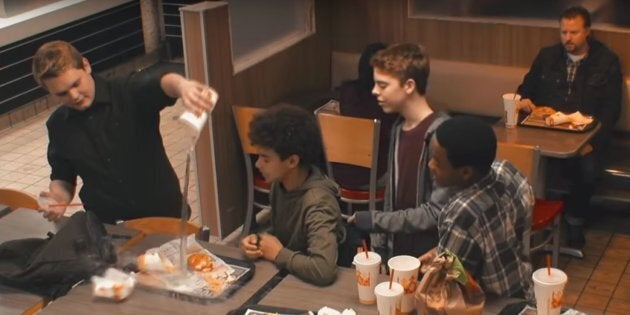 Libby Bell was just 13, when she ended her life in September this year. The teenager was an award-winning state junior lifesaver but was allegedly subjected to a barrage of on and offline harassment including an incident when she was filmed while being bullied at a fast food restaurant last year, one of many incidents her family believe led her to taking her own life.
The emotional three-minute spot, timed to coincide with National Bullying Prevention month in the U.S. is aimed at bystanders to bullying. The PSA features a number of real customers who are secretly filmed watching teenage actors act out a scene where a high school junior is bullied while dining at one of the fast-food giant's restaurants.
The majority of adult customers elect not to intervene, however, when they discover their Whopper Jr. burgers have received similar treatment, they are quick to take a complain to management.
"Had you seen me bullying this burger, would you have stood up and said something?" the cashier asks.
The PSA then reveals that while 95 percent of customers reported the "bullied" Whopper Jr., only 12 percent stood up for the high school junior being bullied.
Even though the ad is a little weird -- comparing a crushed burger to a kid being bullied is a stretch -- it is nonetheless a powerful depiction of how often we ignore displays of public harassment and children in distress. It is especially heart-warming when a woman customer towards the end of the PSA, shows up to help the bullied student.
The reason why many in the anti-bullying community are favourably inclined towards the Burger King ad is that there is a consensus among the experts that bullying occurs within a group context, with peers present as onlookers in around 85 percent of bullying interactions.
Many researchers believe that bystanders can have active, diverse and involved roles in the bullying process, from facilitating to inhibiting bullying. Studies show that around 20-30 percent of students actively assist or reinforce bullying, and another 26-30 percent of students try to stay outside the bullying situation. Unfortunately, less than 20 percent of students act to stop the bullying and defend the student being bullied.
Professor Ken Rigby, the doyen of bullying researchers in Australia, states that all schools must include in their policy document, "... A statement of the responsibilities of those who see bullying going on to seek to stop it". Not making any reference to the role of bystanders, given their central role in bullying, seriously undermines the credibility of any school policy document. How bystanders respond can determine whether the bullying continues or gets worse.
Extensive research, both internationally and in Australia, has consistently demonstrated the pervasiveness of bullying in schools and its far-reaching detrimental effects on students. Estimates vary with some researchers saying one in four, one in five or one in six students are bullied weekly and are bothered by it.
The short, medium and long-term impacts of both on and offline bullying have been comprehensively researched and include anxiety, depression, self harm, suicidal ideation as well as suicide, and in the last few decades, school bullying has rightly become viewed as an urgent social, health and educational concern.
The ad campaign is too late for Libby Bell and her grieving family, who described her as a beautiful, friendly girl with a million-dollar smile and a face that lit up the room. But perhaps if more corporations followed the lead of Burger King in the U.S. and the National Australia Bank here in Australia -- who together with the Alannah and Madeline Foundation created a similar PSA focused on bystanders -- then fewer families would have to deal with the loss of their children way before their time.
If you need help in a crisis, call Lifeline on 13 11 14. For further information about depression contact beyondblue on 1300224636 or talk to your GP, local health professional or someone you trust.
Dr Michael Carr-Gregg is a Child and Adolescent Psychologist and a Member of the National Centre Against Bullying
Popular in the Community