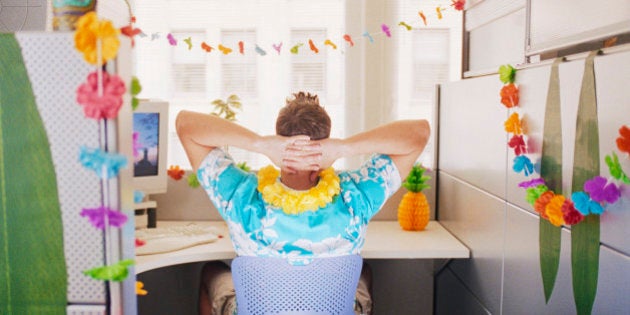 Small business owners are working themselves into the ground by not taking holidays or having enough downtime, recent surveys have found.
Of the 515 small business owners and managers surveyed by cloud accounting company Xero, 57 percent have not taken a holiday for more than a year, while 23 percent haven't had a holiday in two years.
The survey showed the key reasons Australian small business owners struggle to take time off are:
They need to be available at all times as they are the decision maker (42 percent);
They can't take holidays as they are the sole employee (37 percent);
They are too busy to take holidays (25 percent);
They are unable to relax if they don't know what's going on with their business (32 percent).
The 45 per cent of owners who don't find it difficult to take time off from their business, say the key to their relaxation is delegation and preparation, with a third saying they prepare by doing extra work in the lead-up to time off, while 22 percent close down their business to allow for breaks.
Only 19 percent hire employees that they trust to run the business in their absence.
Xero Australia managing director Chris Ridd said technology can help to ease the burden of those small business owners who are working long hours and not taking breaks.
"We already knew that small business owners are hard workers, but the fact that almost a quarter haven't taken a holiday in over two years is quite concerning," he said.
"There are plenty of tools to help small businesses manage their business and work remotely if need be, allowing them to check in on their business with the click of a button, no matter where they are.
"Having the ability to know what's going on in your business whilst you're away can lead to greater peace of mind, giving business owners more incentive to take time off from work."
Freelance talent marketplace Upwork also conducted a survey of small business owners, with similar findings.
Of the 210 business owners they surveyed, more than 90 percent plan to pick up additional work over the holidays, 70 percent will work longer hours and 53 percent will take work home with them.
Nearly 45 percent felt guilty about working over the holidays in lieu of spending time with family and friends, but despite this, 76 percent will still work between Christmas and New Year's Day.
Small business owners who feel they cannot take time off should be mindful of the impact of working long hours without a break.
Beyondblue, the national initiative to raise awareness of anxiety and depression, has documented that working long hours is associated with poor psychological health, increased family conflict, excessive fatigue, worry and irritability and increased rate of injury.
The mental health body suggests that work-life balance can be improved by:
Scheduling meetings during core work hours, not your personal time;
Getting out of the office during lunch;
Setting an alarm to remind you to take regular breaks;
Restricting overtime hours;
Being willing to say no when requests are unreasonable.