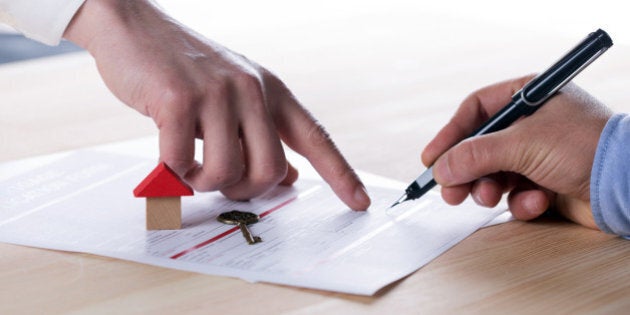 Anyone who has even considered dipping a toe into the Australian housing market will know it can be brutal, particularly if you live in a capital city.
It's little wonder, then, people are looking for more cost-effective ways to get their foot in the (literal) door, with one of the more popular options being purchasing a property off the plan.
However, before you fall in love with a floor-plan and hand over your entire life savings, it's worthwhile reviewing both the pros and the cons of off-the-plan purchasing. Because in this game, there is just no such thing as try-before-you-buy.
1. Research your developer.
"Firstly, it's important to make sure you are buying from a reputable developer. It's well worth taking the time to make sure they have a history of developing projects similar to what you are looking to purchase," Mark Mendel, CEO of iBuyNew told The Huffington Post Australia.
"It's also important that the development is DA [development application] approved. It might sound like that's an obvious thing to check, but a lot of developers in Sydney over last 12 months have been selling without DA approval, trying to take advantage of the market. They are actually able to put a clause in the contract that allows it.
"If they aren't able to get DA approval, the contract will get rescinded and the buyer gets their 10 percent deposit back, but in the meantime that could take six months.
"So you have this expectation of buying one property, which then doesn't get DA approval, and even though you might get your deposit back, you have missed out on buying anything in the last six months. This can be particularly damaging if the market in that time has gone up. That was a big factor at the end of last year, though now the market has softened a bit."
2. Know where your deposit is going.
"Make sure your deposit is held in a trust account," Mendel advised. "Some developers ask for money to get released to a personal name, which they can then use to help build the project. It's a big no-no and you can lose a lot of money very quickly. Make sure your money is held in a trust."
3. Understand your contract and don't scrimp on a solicitor.
"Don't be afraid to ask questions. Make sure you understand exactly what you are getting. You need to be aware of the finishes and the fixtures. While there are allowances for a developer to change them, they need to be of a certain standard," Mendel said.
"This kind of buying means it's impossible to identify exactly what you're getting, so it's better to have an understanding of it and ask more questions.
"It's also imperative a buyer understands the contract and what they are actually signing. A lot of buyers will actually go to a solicitor or conveyancer their friends use rather than doing their own research. What they need to understand is an off the plan contract is very different, and you should ideally be using a solicitor who is very well versed in off the plan contracts, or it might even be their specialty.
"In saying that, a lot of our clients will come to us and look for the cheapest solicitor. They might want to pay $900 or $1500, but I say that's one of the most important pieces of the puzzle. This person is the answer to your legal rights, and here you are, willing to spend half a million on a property, but you're scrimping on legal advice. It doesn't make sense to me."
4. It might take longer to finish than you expect, but that's just the way the cookie crumbles.
"The timing of settlement is more relevant to a home buyer than an investor, because obviously home buyers are keen to move into the property as soon as possible," Mendel said.
"If you are renting, don't give a notification to your landlord that you're moving out until you get a notice of settlement, which is ordinarily issued about two weeks before you are able to move in.
"These means you'll probably have a two week overlap with your rent and mortgage, which can be a good thing, as you can shop for furniture and get organised. However it's a good idea to take into account you'll be paying double for two weeks, so it's best to store some money away in anticipation of that.
"Delayed settlement is something first home buyers often complain about, and it's completely understandable, but you have to understand the developers' intention is to finish the project as quickly as possible," Mendel said.
"The construction loan is actually at its maximum time at the end, and they don't want to be in that position. It could be the council or a builder delaying them, it's not always in their control."
First of all, buying off the plan gives you more time to save, which is extremely beneficial, particularly for first home buyers desperate to enter the market.
"Because you only need to hand over an initial deposit of 10 percent, you have until settlement to save the remainder," Mendel said.
"This is good for new home buyers and investors alike, as you can lock in a price at the time of purchase and enter the market without having to actually come up with the full amount straight away."
Also, if you make a wise investment, the value of your property could rise before you even get the keys.
"If I look at our clients over the past few years, they have made hundreds and thousands of dollars," Mendel said. "In particular, the Sydney, Melbourne and Brisbane markets.
"One example is some clients who bought an apartment in Campbelltown for $360,000, and it's now selling for $490,000 just two years later.
"We've seen significant market growth in the last three years in Sydney, and we expect to see the same over the next three years in Brisbane. Regional areas like Gosford and high-infrastructure areas we also predict will do well.
"Melbourne tends to stay fairly steady, whereas Sydney and Brisbane have market cycles. For those hedging their bets, Melbourne seems to be a steady ship."
For those picky with their preferences, buying off the plan also affords the (rare) opportunity to get first dibs on an apartment of your choice.
"One very attractive factor is you get first selection," Mendel noted. "When you look at buying a property off the plan, it's the only point in time you get an actual choice at buying your favourite apartment within the development. That's a big factor.
"Typically developers will put prices up as they come closer to completion, but if you get in early, you can get your dream apartment at a competitive price, which is definitely an advantage."