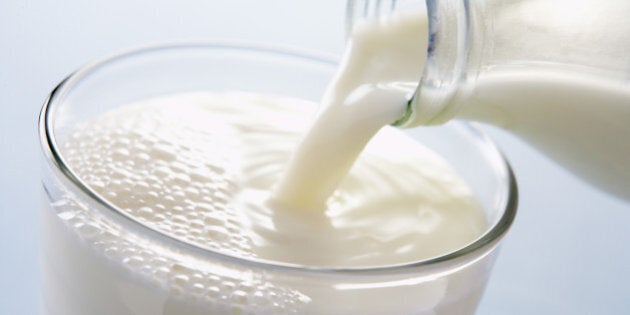 Drinking milk has long been associated with building strong bones and preventing osteoporosis -- but two new studies published in The British Medical Journal on Wednesday claim otherwise.
According to researchers at the University of Auckland, if you're over 50, increasing calcium intake doesn't improve bone health nor does it prevent bone fractures -- but Australian medical experts warn these findings are incorrect and dangerous.
The studies indicate that the amount of calcium a person over 50 has in their diet whether -- either from food or supplements -- is unrelated to the risk of bone fracture.
"In the first study, we found that increasing calcium intake from dietary sources or by taking supplements produces small (one to two percent) increases in bone mineral density, which are unlikely to lead to a clinically meaningful reduction in risk of fracture", says University of Auckland Associate Professor of Medicine and study author, Dr Mark Bolland.
Current guidelines advise older men and women to take at least 1000-1200 milligrams per day of calcium to improve bone density and prevent fractures.
"The second study found that dietary calcium intake is not associated with risk of fracture, and there is no clinical trial evidence that increasing calcium intake from dietary sources prevents fractures," Bolland said.
"Our results suggest little or no benefit of increasing calcium intake on bone health for older people, which calls into question the validity of these recommendations."
However, Professor Peter Ebeling, Head Department of Medicine at Monash Health and Osteoporosis Australia medical adviser disagrees explaining in a recent large Australian cohort study they found high calcium intake was associated with a reduction in fractures, as well as a reduction in cardiovascular events and mortality.
"Their findings are pessimistic and negative -- at a population level, fractures are reduced by 11 percent by either calcium or calcium and vitamin D supplements," said Ebeling.
Osteoporosis Australia recommend an even higher amount of 1, 300 milligrams per day for women over 50, and men over 70 -- due to absorption being less effective in older adults.
Dietitians, nutritionists and medical experts oppose the findings, saying they are not consistent with past research and calcium intake is still extremely important, particularly for postmenopausal women and men over 65.
"These studies are going to generate a lot of fear -- which isn't a good thing," said accredited nutritionist, Tracie Connor.
"As women go through menopause, estrogen levels decline and this decreases our ability to absorb calcium -- which is why increased calcium intake is so important as well as weight bearing exercises for bone health," she said.
Melanie Mcgrice, an accredited dietitian added: "It's not just about calcium alone in your diet but foods that are high in calcium provide micronutrients and protein which are needed for general health.
"The elderly already have low amounts of protein and are at high risk of falls, so therefore the risk of fracture is even higher making both protein and calcium important," said Mcgrice.
Ebeling added that while inadequate calcium intake is likely to be deleterious to bones, calcium significantly above the recommended level is unlikely to achieve additional benefit to bone health.
"Thus, strategies to increase calcium intake should be focused on people whose calcium intake is lowest," he said.
Osteoporosis Australia believes a combined approach of regular weight bearing exercise like Tai Chi, with adequate dietary calcium intakes and optimal vitamin D levels are recommended to maintain bone health in older Australians.