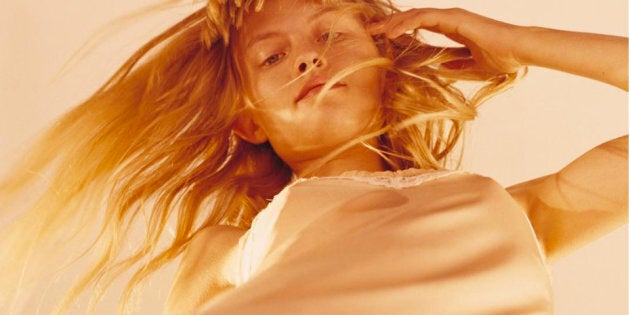 Last week the Internet took major issue with one of Calvin Klein's latest campaign images -- something the brand has gotten used to over the years.
Model Klara Kristin stars in a new installment of the campaign, which features celebrities and unknown models alike, each stating what he or she does "in my Calvins." One image of Kristin is shot up her dress, accompanied by the text overlay "I flash in my Calvins."
Commenters voiced their disapproval on a number of aspects of the ad, including how Kristin's youthful appearance prompted many to confuse her for a minor (she is 23, for the record). They also took issue with the pose itself, which mimics the often-exploitative upskirt shots found on pornography sites. Both Kristin and photographer Harley Weir have stood by the image despite negative feedback, but the National Center on Sexual Exploitation consequently launched a petition urging Calvin Klein to suspend the campaign, stating the image glamorized sexual harassment:
Up-skirting is a growing trend of sexual harassment where pictures are taken up a woman's skirt without her knowledge, or without her consent. Not only is this activity a crime in many states like New York, Washington, Florida, and more, but it is also a disturbing breach of privacy and public trust. By normalizing and glamorizing this sexual harassment, Calvin Klein is sending a message that the experiences of real-life victims don't matter, and that it is okay for men to treat the woman standing next to them on the metro as available pornography whenever they so choose.
But here's the sad thing: No matter the how many negative comments the brand receives, no matter how many signatures the petition gets, and no matter how much media outrage ensues as a result of the image, unfortunately, Calvin Klein and other brands can only benefit from putting out images like this, according to Jean Kilbourne, senior scholar at the Wellesley Centers for Women.
Kilbourne, creator of the film series "Killing Us Softly: Advertising's Image of Women," explained to The Huffington Post it's how the brand has made money -- and stayed relevant -- since Klein had 15-year-old Brooke Shields declaring in 1980 that "Nothing comes between me and my Calvins."
"I really do lay a lot of it at his doorstep. He started it with a lot of this sort of soft core porn 20 years ago and now it's just sort of mainstream," she said. "Twenty years ago this would be considered truly scandalous, whereas now it's kind of like 'Oh well, it's Calvin Klein,'" she said.
So how did we get here? Well, in part, by contributing to the brand's negative attention. When Calvin Klein's target audience (a very young group, perhaps, considering its current faces are Kendall Jenner and Justin Bieber) interprets the ads as being rebellious and cool, it leads other retailers to hop on board, and thus, as Kilbourne explains, "[moves] the center of what's acceptable in advertising in a more extreme direction."
Alongside negative comments on the photo, some Instagram users saluted the brand, model and photographer for showing a woman comfortable enough with her sexuality to take this kind of photo in the first place. Kilbourne, however, argues that while the image is certainly sexual, it is far from sexually empowered -- and it's trite, anyway.
"It objectifies the woman," Kilbourne said. "I can hear comments already from women saying 'No, she's empowered, she's liberated.'... But if your idea of empowerment is to mimic a porn image of a cliche that has been around forever, that doesn't seem very empowering to me. It just seems lacking in imagination."
Above: another campaign image featuring Kristin.
Of Calvin Klein's many, many controversial ads over the years, it appears there was one time the brand actually took criticisms to heart. The New York Times reported in 1999 that a billboard slated for Times Square got the boot after being heavily criticized for featuring children in Calvin Klein underwear. Those same images, however, still appeared in magazines and newspapers already sent to print before the billboard was canceled.
When asked if she thought Calvin Klein would ever stop putting out these types of ads, Kilbourne was pretty set in her response.
"No, never," she said. "Why should he? He's making a fortune, getting a huge amount of attention."