In the hunt for a HIV cure, specialists are desperate to team up with another field of treatment, but for a different deadly disease.
A week-long international conference in Paris has seen HIV experts asking for help from their peers in life-saving cancer research as it seems one treatment might be useful in fighting both HIV and cancer.
Although there are lots of differences between the two diseases, many of the fundamental components are the same, as both ultimately focus on bolstering a tired immune system in patients.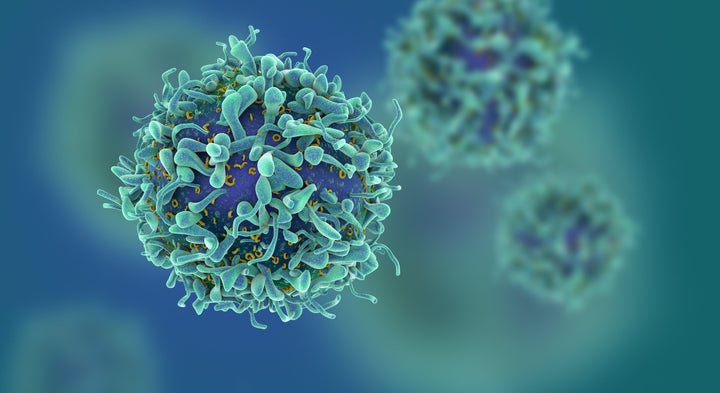 Francoise Barré-Sinoussi, former president of the International AIDS Society, said: "The parallels between HIV persistence and cancer are striking. In both cases, the immune response is unable to target and clear HIV-infected cells and tumour cells."
In both diseases malignant cells trick the body's defences, by producing rogue proteins on their surfaces, ensuring the human body struggles to clear them away effectively.
Both groups of scientists also face challenges related to tracking size, number and spread of infected cells, especially those 'hidden' in reservoirs of hard-to-reach tissues.
In HIV this happens when the virus 'sleeps' in cells, meaning antiretroviral drugs (which have to be taken daily) cannot seek them out and kill them.
HIV experts are hoping to transfer the success of cancer researchers with a new class of immunotherapy drugs, known as 'checkpoint inhibitors', that have seen 20% of trial patients with terminal cancer go into complete remission.
Professor Sharon Lewin, Doherty Institute, has already started testing their potential for HIV treatment, as a way to reinvigorate tired immune systems.
Professor Lewin said: "The parts of the immune system that recognise HIV are often exhausted T-cells, they express immune checkpoint markers.
"In the laboratory, if you then put those cells in with an immune checkpoint blocker, the T-cells do regain function."
The drugs also wake up the HIV virus that is hiding away, so they can be killed by the antiretroviral drugs that are being administered by the patient.
But there has been some caution about the drug's potential, so far only about 50 people with HIV have been given immunotherapy to help them treat their cancer so there is little evidence to base the claims on.
And the trials might be risky to undertake in people whose illness is well managed with safe, effective AIDS drugs.
According to the BBC, Dr Anthony Fauci, head of US National Institute of Allergy and Infectious Diseases, said: "We have to be careful we don't assume that things that work in cancer are going to work in HIV.
"HIV is so different, that even though it's worth exploring, I wouldn't want people to think this is going to be equally successful in HIV."