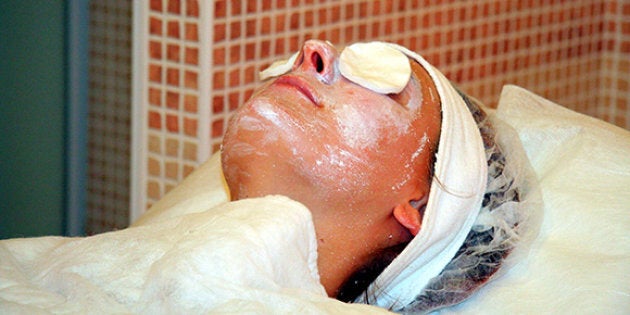 Surely brunch is merely the tip of the Gen Y I-can't-bid-at-auction iceberg. A much bigger problem (and I am quite the expert -- I have seen youth walking along streets) is that young people are far too pretty.
Haircuts, full-body waxes, manicures, moisturiser: these are all mandatory services for twenty-somethings. And don't forget spray tans, summer highlights, botox, beard trims, colonics, eyebrow threading, tattoos, laser tattoo removal ...
Clothes play a big part too. It is very un-celebrity to wear things more than once. Yes, cropped tops from H&M may be $14.95, but if you get one in every colour, well. Plus, op-shops have been superseded by vintage stores: pre-pilled jumpers with armpit stains are OUT and classic Chanel is IN.
And you know what's to blame for the rise of pretty, don't you: Tinder. Yes, the superficiality of internet-dating has ruined everything. The rise of the selfie is the main reason Gen Ys can't break into real estate.
Back in my day (1998-2006) I only looked at myself in the mirror, very briefly, after breakfast and before stepping out of the house. The week before I started uni I bought some deodorant and mascara (actually I just bought a magazine that came with a free sample of mascara).
Blundstones and small t-shirts were on trend -- although the term "on-trend" wasn't yet -- and I got several pairs of old-man pants from the Camberwell market for between 50 cents and two dollars.
I squeezed pimples. I plucked my eyebrows. Sometimes I brushed my hair. Once, in preparation for a three-day music festival, I rubbed orange fake tan onto my whole body.
But in general, I was not pretty.
And then, when I was 26, I bought a house.
I know -- it's not fair, the median tiny house price in inner Melbourne is now $7.3 million and the cost of a spray tan is not even close to required 10 percent deposit.
But haven't you heard this old saying: Watch the pennies and the pounds will look after themselves. A modern translation: getting your roots done every five weeks is why you have no savings.
I've never been a big earner -- my top yearly income was a whopping $39,500 (2006-7) -- but I've always been a big saver. During the 1990s recession I had no idea that 75 percent of my dad's income was going towards our mortgage (hello, 16 percent interest!), but I did notice my parents selling the rocks from our backyard (yes, people actually bought them).
I think I was born with an ingrained tightarseness, and, frankly, I can't see it ever lifting. I love a bit of forced austerity! (Not the Joe Hockey kind, though.) Extravagance and frivolity are overrated. Hedonism -- no thanks!
When did Puritanism become so unpopular? Why aren't more people wearing hair shirts, taking vows of silence and putting dried chickpeas in their shoes? (Disclaimer: my entire knowledge of Puritanism comes from an episode of Blackadder in which Edmund serves his Puritan aunty a turnip "shaped like a thingy".)
Last week a friend told me that she "never looks at the price of the fruit or vegetables at the supermarket" and just gets what she likes. What?! If I did that I'd come home with blueberries, raspberries, leeks, a pomegranate, tiny multi-coloured tomatoes and more blueberries. But I don't. So I usually come home with apples and carrots. Sometimes just carrots.
Lipstick sales increase in times of economic hardship. If you can't afford a new Prado, at least you can still put a bit of lippie on to lift the mood, right? No! Lipstick -- like chocolate, cleaning out your ears and watching a man pretend to be a T-Rex on YouTube -- only offers short-term benefits. At the end of the day you realise that you have licked off the majority of the Revlon Super Lustrous Smoked Peach and still don't have a new Prado.
So here's the solution, Gen Ys: cut your own fingernails, let your hair grow long and say no to the back, sack 'n' crack. Every time you feel like getting a small tattoo of Lumpy Space Princess or a tiger eating a dolphin, put $220 in a jar (or the bank). And, if you really find that your face is slightly dry-ish and you wish you could just pop down to the supermarket for some Nivea, rub some smashed avocado on it instead -- works wonders.