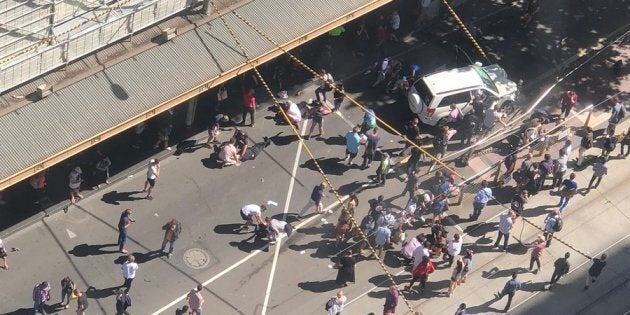 Almost 20 people are injured and a man has been arrested after a four wheel drive drove into pedestrians in the middle of the Melbourne CBD, in what police are calling a "deliberate act" perpetrated by a man with mental health issues.
Reports and photos flooded social media on Thursday afternoon around 4.30pm. The vehicle collided with a number of people at the intersection of Flinders and Elizabeth streets, outside the Flinders Street station.
As of 5.45pm, paramedics said up to 15 people were injured with 13 in to hospital, including one young child who has already been transported to hospital in a serious condition. At 9.45pm, Victorian Premier Daniel Andrews said the number of hospitalisations had risen to 19, including four people in a critical condition.
In a 7pm press conference, Commander Russell Barrett said officers believed the crash was a "deliberate act", which had left several people in critical condition. The officer said the motivation behind the act remained unknown. In a later update, around 9.45pm, police said the driver -- a 32-year-old Australian citizen -- had a history of mental health issues, and was receiving treatment for a mental illness.
The driver was apprehended by an off-duty police officer who happened to be at the scene at the time.
"[The driver] has historical assault matters... He has a history of drug use and mental health issues," said Acting Chief Commissioner Shane Patton.
"This is early days, but we understand he is on a mental health plan and is receiving treatment and mental illness. We are working through to clarify that. He is still in custody, under arrest for these offences, for what we allege was a deliberate act."
"A range of investigators, including the homicide squad, are being supported by the counterterrorism command. At this time we do not have any evidence for any intelligence to indicate there is a connection with terrorism."
"What occurred on Flinders Street this afternoon was an act of evil. And an act of cowardice," Premier Andrews said.
"We have seen a horrific act, an evil act, an act of cowardice, perpetrated against innocent bystanders. We are all caught up in this. We are all deeply saddened and deeply wounded by this terrible act."
Another 3AW caller claimed the car "just mowed everybody down, people were flying everywhere."
Police and ambulance units are on the scene, with Victoria Police saying the driver had been arrested at the scene. Police later advised that a second man had also been arrested in relation to the incident, but Patton later updated that police did not think that man was linked to the crash -- rather, he was arrested after being found with three knives in his bag.
"Police have saturated the CBD area following an incident where a car has collided with a number of pedestrians on Flinders Street. The incident occurred when the vehicle struck a number of pedestrians in front of Flinders Street Station just after 4.30pm," police said in a statement.
"The driver of the vehicle and a second man have been arrested and are in police custody."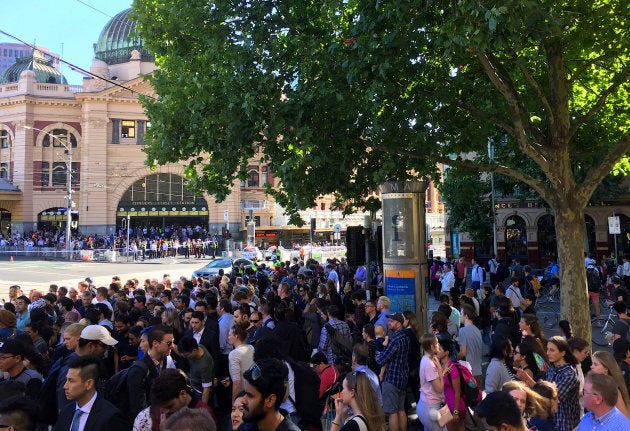 People and vehicles are being asked to avoid the area, while police are also looking for witnesses to the incident. Trains, trams and buses are being diverted around the busy transport hub, causing chaos in the city's commuter peak hour.