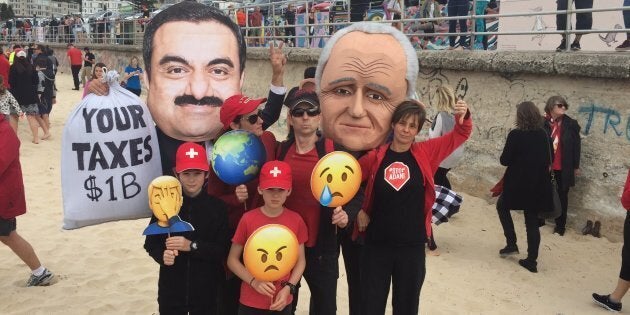 Sydney's iconic Bondi Beach has been transformed into a living protest banner against Adani's Carmichael mine as part of a national day of action against the controversial project.
Organisers of the rally at Bondi said around 2,000 people were at the beach to spell out "#Stop Adani" in human form on Saturday morning.
The protesters want to stop India-based Adani going ahead with the coal mine, which is set to be one of the biggest of its kind in the world.
Community groups and environmental organisations are staging over 45 events across the nation today against the project in Queensland's Galilee Basin.
Adani plans to import 60 million tonnes of coal from Australia each year, sourced from the company's $21 billion Carmichael mine.
Queensland premier Annastacia Palaszczuk has maintained the mine will bring 10,000 jobs to the region.
But Queensland's land court has been told the economic modelling provided as part of the environmental impact statement had "overstated" the number of likely jobs.
Billionaire Gautam Adani has previously emphasised the job creation potential of the project.
The company has promised thousands of local jobs for residents of Townsville and Rockhampton to work on the massive project.
Australian Youth Climate Coalition national director Gemma Borgo-Caratti said the mine posed an "unacceptable threat" to the nation's future.
"Young people won't stand by and let another massive coal mine be built in this country," she said on Saturday.
"Australia just sweltered through the hottest September on record, with the hottest days more than 16 degrees warmer than the average. Right at the time we need to take substantive climate action, Adani's coal mine would take us in the wrong direction."
Correction: An earlier version of this story stated that 10,000 jobs would be created by the Adani mine. In fact, this figure is disputed. Additional details have been added to the story to support a contrasting figure of 1464 jobs.