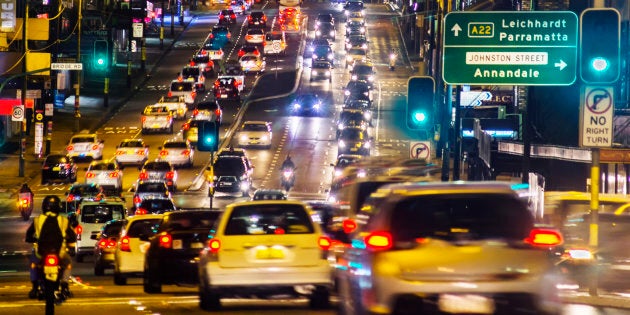 Australia's annual emissions from energy use have increased to their highest-ever level according to the recent report by respected energy expert Hugh Saddler. This finding is disturbing, and points to a failure by government to address climate change across all sectors.
While all the attention has been on electricity generation as the main driver of Australia's emissions, the report found greater consumption of petroleum fuels, especially diesel, and diesel engine cars particularly, as the main cause of the increase.
Despite this worrying finding, action on transport in Australia has been slow and lags behind most of the OECD countries. We have the ninth-highest transport emissions per capita in the world, nearly 50 percent higher than the OECD average.
There has been a Ministerial Forum on vehicle emissions since 2015 and a discussion paper 'Better Fuel for Cleaner Air' -- but little result to date. Europe and the United States have much more stringent vehicle emission and fuel standards, mainly because of concerns over deteriorating air quality.
Electric cars are much cheaper to run, require less servicing and have much lower emissions even when the electricity source is mostly coal as in the case of Australia.
Diesel emissions are the worst offenders in cities because of the nature of the fuel and because they are difficult to control even with good particulate filters. Hence the bans planned for diesels in a number of countries, including China, India and Norway.
With transport emissions pushing Australia's contribution to climate change higher, it seems unlikely that Australia will meet its obligations under the Paris Agreement, even the weak targets we have agreed to. This is despite Australia's particular vulnerability to some of the impacts of global warming, including heatwaves,bushfires, droughts and floods.
There is however, a ray of sunshine emerging in the transport sector. Physicists and economists, such as Tony Seba from Stanford University, have compared the energy consumption of electric vehicles with that of the internal combustion engine. The latter is about 25 percent efficient compared with the electric motor's 90 percent plus efficiency. Most of your petrol or diesel car's energy is dissipated as heat by the radiator or goes up the tailpipe as exhaust fumes together with the polluting by-products.
Electric cars are much cheaper to run, require less servicing and have much lower emissions even when the electricity source is mostly coal as in the case of Australia. Clearly, with cleaner grid electricity that effect is multiplied.
With the loss of traditional automotive manufacture in Australia, we are left with a workforce capable of taking up the opportunity offered by manufacturing in the electric vehicle sector. Growth in the electric vehicle market is entering a phase of exponential expansion with Volkswagen, Daimler, Ford, Toyota, and Tesla investing millions while China's BYD is shaping as the world's biggest maker of EVs.
It is also a chance to embrace a technology solution to the growing problems of air pollution and rising emissions.
In meeting our international obligations under the Paris Agreement, lowering emissions in the transport sector is low hanging fruit.
Will the government pick it, or choose to ignore it?
Disclaimer: Graeme McLeay has no investments in electric vehicles or lithium stocks and is the owner of a diesel car which he uses as little as possible while waiting for a suitable EV to arrive in Australia.