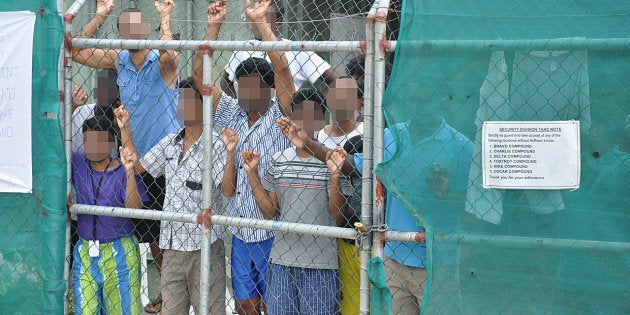 CANBERRA -- Cartoonists worldwide are rallying behind an Iranian asylum seeker and fellow artist, who goes by the pen name Eaten Fish, currently on a hunger strike on Manus Island.
Eaten Fish has been in the Australian facility on Manus since 2013, and recently had his refugee claim denied. As of earlier this week, the man was on a hunger strike and is said to be suffering serious medical complications on top of reported mental health issues.
According to a website set up in his name, Eaten Fish has "debilitating mental health issues", has "been the victim of sexual assault, chronic sexual harassment and abuse" on Manus, and has been held in a special supported accommodation area in the Manus facility for the last eight months.
Eaten Fish has updated followers online about his experiences on Manus, and even told stories of events on the island -- such as the deaths of fellow asylum seekers -- through cartoons.
In support of their fellow artist, cartoonists around the world are sharing images of support online under the hashtag #AddaFish, and criticising Australia's immigration detention regime. Cartoonists have also put together an online magazine, "An artistic open letter of love, defiance and solidarity", in support.
Eaten Fish's moniker is a reference to his detention on Manus, according to PRI.
"I'm like a fish bone... Gotten from the sea. Eaten and thrown away for so long," he told PRI.
Greens senator Scott Ludlam brought up Eaten Fish in the Senate this week, sending his own support to the cartoonist and calling the process around his refugee application a "joke".
"He's petrified of being moved from his supported accommodation back into the general area, and petrified of being returned to Iran and executed," Ludlam said.
"His refugee determination status process was an absolute joke. During the determination he was so unwell that he was unable to present his case. All of this has been documented.
"It's taken Eaten Fish a year to talk about his experience but now he wants people to know what's going on."
The Australian trade union Media Entertainment and Arts Alliance (MEAA) is running a campaign pushing for Eaten Fish and fellow asylum seekers, Iranian journalist Behrouz Boochani and performer Mehdi Savari, to be released.
"We believe that to continue to detain these three individuals without charge or trial undermines freedom of expression and the right to seek asylum. All three have courageously continued to practice their vocations on Manus Island despite their incarceration. We urge you to allow them to be resettled in Australia so that they can live, work and contribute to Australian society," MEAA wrote in an online petition.
ALSO ON HUFFPOST AUSTRALIA