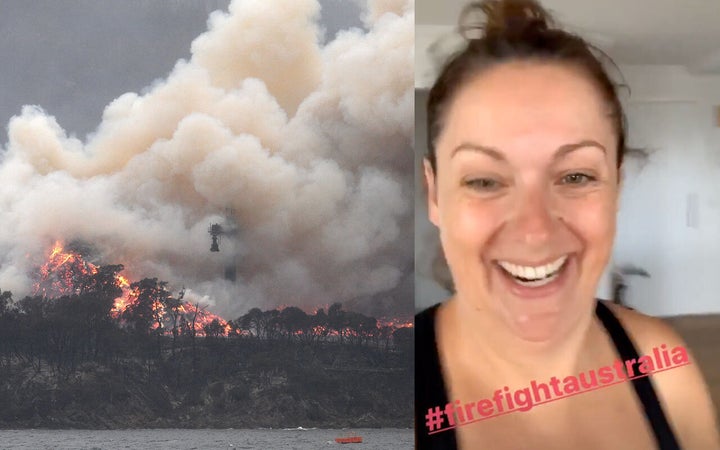 Aussie darling and unofficial face of the Australian bushfire crisis Celeste Barber will host a nine hour benefit concert in Sydney next month to raise money for those affected by the disaster.
"Fire Fight Australia", to be held from 1pm at ANZ Stadium on February 16, has signed on the likes of Queen and Adam Lambert, Alice Cooper, KD Lang and iconic Australian artists such as Grinspoon, Olivia Newton-John, Hilltop Hoods, Delta Goodrem, John Farnham and Tina Arena.
Tickets go on sale Monday from 12:00pm AEDT HERE.
Celeste, who won fame for her parody photographs mimicking "real-life" reenactments of high-end fashion shoots and celebrity moments, launched a Facebook fundraiser campaign for the NSW Rural Fire Service over New Years Eve as fires threatened her husband's family on the south coast.
The campaign raised more than $50 million.
Organiser Paul Dainty told The Sydney Morning Herald Celeste has done an amazing job with her fundraiser.
"She is great with the quips and the dialogue that will bring another dimension to the day, she will be the glue to get through the day and night," he told Sydney Morning Herald.
The lineup was released on Monday but Dainty said there would be more talent announcements over the next week.
"I have been talking to managers and agents in the UK and America, there isn't anyone who doesn't know about how devastating it is," he said.
Twenty-seven people have been killed and thousands subjected to repeat evacuations as monster - and unpredictable - fires have scorched through more than 10.3 million hectares of land, an area the size of South Korea, since the start of October.
Australian authorities urged nearly a quarter of a million people to evacuate their homes on Friday and prepared military backup as soaring temperatures and erratic winds fanned bushfires across the east coast.
Tickets for Fire Fight Australia HERE.