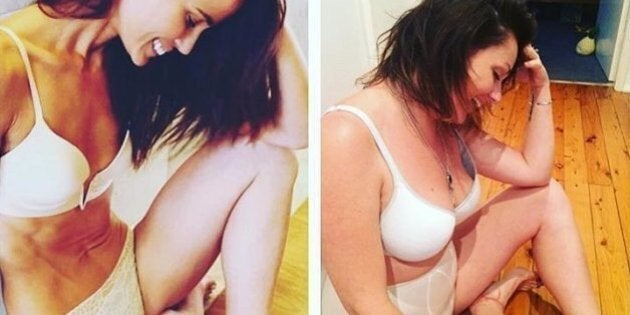 She's the Aussie actor and comedian who entertains close to 700,000 people with her humorous takes on celebrities. As down to earth and she is hilarious, she's refreshingly real about the whole social media caper. You may have also seen her on the box from time to time.
"I trained at Nepean in Sydney in acting. I was an actor. I am an actor I should say! I did a fair bit of TV for a while -- I did All Saints for the last five years of the show, and I did some Home and Away. I was one of the sketch writers and performers on the Matty Johns Show, and recently I've got together with a good friend of mine who is based in L.A and we're doing a lot of writing and pitching shows, which is a lot of fun," Barber told The Huffingon Post Australia.
And when she's not writing she's taking the absolute mickey out of celebrities contrived images from photoshoots and posts on social media.
"My sister and I would send stupid stuff to each other, like yoga instructors going 'you should do this everyday' and we would joke 'yeah okay, challenge accepted!', and from there I thought it would be funny to post them on Instagram. Being an actor and a comedian it kind of came naturally, though now it has turned into something else. Holy crap! It's gone nuts!," Barber said.
"I really didn't think it would get to this. I really didn't. But I would have been really pissed off if it didn't as well. I mean, if I don't get a million followers by Wednesday I am shutting the whole thing down. No, I'm joking. It's fun. It's super fun!"
Barber is flattered (without having to use the 'blessed' hashtag) by fans who reach out to thank her.
"It feels great because I get so many people -- mums of young girls or even young teenage girls -- emailing me telling me that I've changed the way they look at themselves. And I'm like 'Oh wow! That's amazing. I thought I looked like an idiot in that post, but that's so great!'"
Asked about her views of social media overall, Barber is all about just putting the phone down.
"I'm a big believer in social media only having the power that you give it. If you don't want to see it then shut it down and it's done, it's over. If you put something up and you want everyone to love it then you're giving it a lot of power. That's why I get a bit nervous sometimes because I don't want to be putting too much effort into it, but then again it's also what I do. It's not like I'm an accountant who has all of a sudden done these funny photos, it's actually an extension of my work."
"While I have put a fair bit of emphasis on it and having almost 700,000 followers is great, it also means nothing! I haven't earned a cent off it, not that money is everything, but career wise being famous on Instagram is like being rich in Monopoly. It means f#ck all! It's cool because to get to do nice interviews like this and connect with cool people, but apart from that, it's not paying my bills or giving me time to write. I know I sound like I am being ungrateful, but my point is that social media isn't the be all and end all," Barber said.
Does she ever feel self conscious about exposing her body in the sometimes provocative poses she gets into the emulate these celebrities? Hell no.
"I don't really care because the worse I look the funnier, and that's what I want. I want people to laugh. I've never really gotten where I am off of how I look. And I really like that, I am really excited by that. So no, I don't care about what I look like in the posts. I've always been the one who will wear a bikini, and I don't care if you think I should or not. I'd rather people listen to the funny joke I have to say, not about how I look. It's about what I have to say."
Turns out that some of the people she takes the piss out of thinks she's pretty funny, too.
"Kris Jenner did a shout out, which was hilarious. She reposted it on her Facebook page and said she admitted that even she thought they were funny. I was like 'awesome, give me money!', and Cindy Crawford, when I did one of her, posted a little smiley face," Barber said.
"The post that still makes me laugh when I look at it is the Kate Upton one getting out of the pool. I think it's funny."