Over the course of her 30-year career, we've seen Céline Dion in many guises — ingenue, diva, movie-soundtrack songstress.
But this most recent incarnation — couture connoisseur — might just be our favourite.
During this week's Haute Couture Week in Paris, Dion, 49, is being followed by Vogue, and the magazine's access is nothing short of fantastic.
So much so that Dion allowed them to take a snap of her between outfit changes, coyly covering the more explicit parts of her body while revealing just how fantastic she looks.
But perhaps just as interesting is the caption that accompanies the picture, which points out exactly how much Dion knows about couture, thanks to the multitude of outfits she wears while performing — and what she has done to them.
"In Vegas, Velcro panels are added to allow for her ribcage to expand or for a quick outfit change," notes the magazine. "Micro straps of elasticized chiffon prevent a slit from becoming a sloppy situation mid-squat. Shoes — always heels, never platforms — are ordered one size smaller (she is normally a 38) and refitted with metal shanks."
The other shots the publication has put out under the hastag #CelineTakesCouture are equally insightful, from Dion's self-aware musings ("What is making the people who are interested in fashion now interested in me when I have always been interested in fashion?") to her penchant for putting her emotions completely out there for all to see.
For now, we're just happy to sit back and see what she wears next.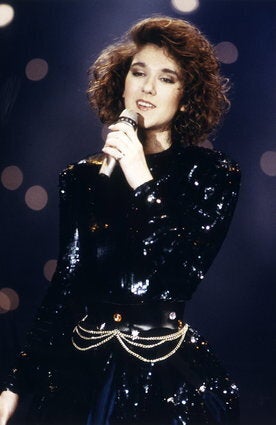 Celine Dion's Most "Celine Dion" Style Moments