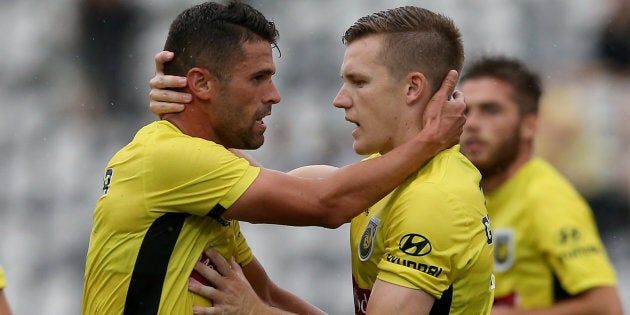 The Central Coast Mariners really wants its fans to attend Friday's A-League match against Sydney FC -- even if it means leaving work early to make the game in time.
But if you're worried about what your boss might say, club CEO Shaun Mielekamp also wants you to know he has your back.
Mielekamp has released an official "early leave pass" for any potential punter who wants to show it to their employer, skip work a few hours early and join the "band of travelling Yellow and Navy supporters" making the one-and-a-half hour trip from Tuggerah on the NSW Central Coast to Allianz Stadium in Sydney.
"The Mariners understand that he/she is a crucial part of your organisation but they are also a crucial part of our Mariners Family," the letter reads.
"We need their support to help us overcome league leaders and our fierce rivals, Sydney FC."
And if that hasn't done enough to seal the deal, the club have even chucked in a few extras to sweeten the agreement for supporters.
Registration onto the supporter's bus will get fans a couple of drinks (and the opportunity to bring more of your own), some snacks and an experience the club calls "a quality away day" with more of the Mariners' faithful.
It's enough to make you think the Mariners must have a chance at rivalling Sydney FC for the top spot on the A-League ladder. Or that they just really don't like them sitting in first place, nine points clear of second-place Melbourne Victory with only five matches left for this season.
Except Central Coast are currently 9th-- five points behind 6th-place Western Sydney Wanderers (who they would need to replace to have a chance of a finals birth this year), and 33 points behind Sydney FC.
Win or lose come Friday, as the old saying goes -- it's the effort that counts.