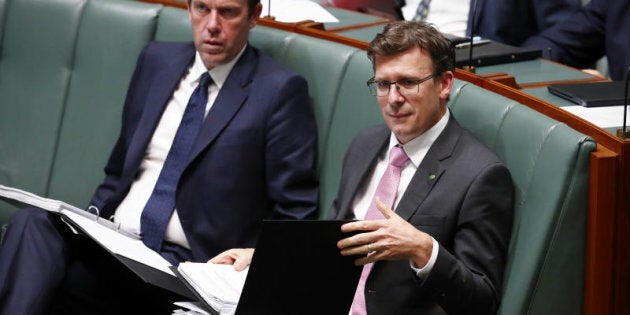 CANBERRA -- The Federal Opposition is calling on Prime Minister Malcolm Turnbull to reconsider the position of the Human Service Minister Alan Tudge after it received "damning" legal advice he may have broken the law in releasing the personal details of a complaining Centrelink client.
But the Labor-commissioned advice from top criminal barrister Robert Richter QC has been immediately rejected as being incomplete and Tudge is standing by his and his own department's legal advice.
Yes, it is now legal advice at 30 paces, but in the middle is welfare recipient and blogger Andie Fox. Her personal details were released in February by Tudge's office after she publicly complained out about being "terrorised" over an "incorrect" Centerlink debt under the new and controversial automated system.
The Minister's office released her welfare details, which is regarded as "protected information" to a Fairfax journalist to "counter" her claims that she had no debt and had been terrorised.
The former chair of the Criminal Bar Association Robert Richter has advised Labor's Linda Burney that a law "may" have been broken and the disclosure "could" lead to a prison sentence.
"It is reasonably clear that the Minister or one of his office's staff has committed an offence," Richter wrote.
"The disclosure of Fox's information would be punishable by up to two years' imprisonment if proven in court."
And on the reason why Minister Tudge disclosed the protected information, Richter adds, "It seems clear that the disclosure of the information "to set the record straight" is not a permitted purpose."
Labor has referred this matter to the Australian Federal Police for investigation and Burney wants Tudge's head to roll.
"This advice is damning," Burney said. "The Prime Minister needs to seriously consider whether Minister Tudge can remain in his position".
But the Minister has rejected the advice, saying Richter did not have all of the details of the case.
In his advice, Richter himself, said, "We cannot presently put it higher without knowing precisely the content of the information that was disclosed and by whom it was disclosed."
Tudge is standing by his own legal advice.
"I received clearance to release the information from the Chief Legal Counsel of the Department of Human Services, who is intimately across the details of the case and the relevant laws," he said in a statement.
"The hypocrisy of Labor is once again on show -- they've spent the past two months parading the private details of people with Centrelink debts in the media, even though they admit that they didn't know if their information was true.
"Labor would like to be able to spread lies about government agencies and give no opportunity for the government to correct the record," he said.
Tudge's office also said Richter did not contact it or the Department of Human Services for details.
The Andie Fox matter is being investigated by the Australian Federal Police after it was referred last month by Labor.
ALSO ON HUFFPOST AUSTRALIA