Fabrice is 36 years old, highly intelligent, and has a way with computers. He is part of a loving family and is keen to meet a life partner. His barrister father Julian -- whom he is particularly close to -- describes him as "a big lovable teddy bear."
Fabrice also has schizophrenia. He hears voices -- some of them which he describes as demons -- and believes he can talk to spirits.
While Fabrice is more than a statistic, he is nonetheless one of the one-in-four Australians who have experienced or will experience mental illness in their lives. He has also decided to share his story with the nation by appearing in the second series of acclaimed ABC documentary "Changing Minds: The Inside Story."
And he isn't the only one. Joining Fabrice are 10 other patients who were admitted to the psychiatric unit at Sydney's Campbelltown Hospital -- including Lynda, a wife and mother-of-two who has bipolar disorder, Nicholas, an 18-year-old student who self-harms as a result of being bullied at school, and 20-year-old Taileah, whose stress manifests in auditory hallucinations.
"I wanted people to realise mental health affects all levels of people," Lynda told The Huffington Post Australia. "I'm a professional person, I have a career. I just thought it was a good chance for people to see it can happen to everyone."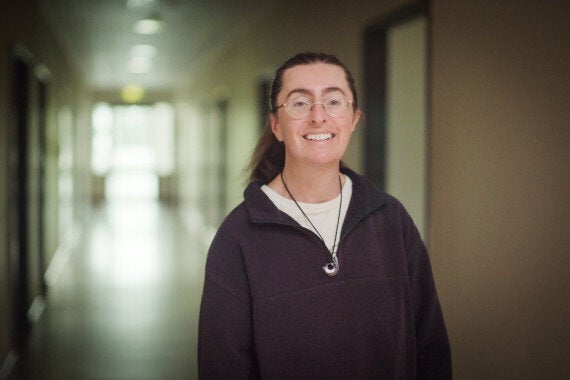 Lynda is a mother of two and has bipolar disorder.
Lynda sounds so different on the phone than she did in the series; it comes as a shock, which she finds amusing.
"Back there I was in quite a manic state -- I'm sure I sound quite different now. When you're in that state -- you do see yourself completely differently. You actually feel quite invincible, quite powerful and positive. It is quite a good feeling even being in the hospital environment. Maybe in the lead-up to getting admitted you feel quite good."
This from the woman who admits she thought a "tapping" sensation on her eyelids was God communicating with her and who spent days in hospital obsessively scribbling down suggestions on her notepad on ways in which the hospital could improve, or, in another case, an A-Z list of another patient's problems.
"It is amazing to see somebody like Lynda -- who is so upmarket and together about things -- to really drive home that point that mental illness affects anybody and everybody," said psychiatrist Dr Mark Cross. "It is amazing to see that transformation and to show -- as I keep on saying -- ordinary human beings who have to deal with terrible things some times. To show they can and do get better is amazing."
"We really wanted to get the message out there, that anyone who goes through mental health issues can be fantastic human beings just like everyone else. We need to break down the stigma and discrimination and accept all of us will be touched in some way by mental illness."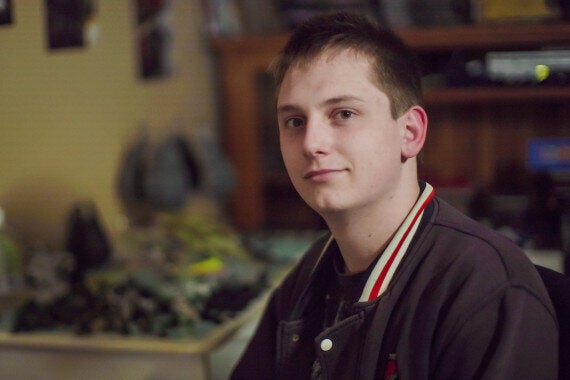 Nicholas dropped out of school to relieve the pressure of his anxiety.
"I want people to know it's not something you can turn on and off," 18-year-old Nicholas, who has self-harmed as a way to cope with anxiety, told HuffPost Australia.
"It's a very hard struggle. It takes a lot of time to repair. I don't think you would pick it up in a younger person as easily. Young people don't know what's going on -- they just accept it, and people around you think, 'oh he's just a teenager, it's just a phase.'
"I was struggling by myself for a long time until it got to the stage where I was prepared to take my own life. I feel a lot better now. I want others to know you're not alone and you should always try and get help.
"It's very hard -- there's a big stigma [around mental health]. People just put it down to a teenage phase, and you try to ignore it and it just gets worse. I ended up dropping out of school."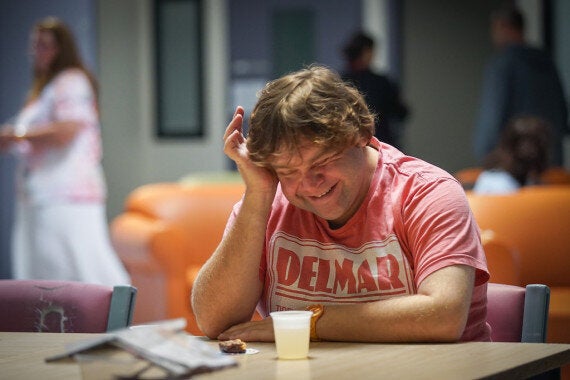 Fabrice is 36 and has schizophrenia.
There is arguably no bigger stigma surrounding a mental health condition than that of schizophrenia. For Fabrice's father, Julian, it's frustrating because he feels people define his son by his condition rather than who he is when he's well -- a man Julian describes as a "funny guy, just a really nice guy" and "a gentle soul."
"Schizophrenia is an unfortunate term. It's derived from the need to have a condition which can be diagnosed from a psychiatric perspective -- but what's underlying all of that is psychosis. I'm not sure you can do much about it," he told HuffPost Australia.
"It is detrimental and it is unfortunate. People who haven't experienced it firsthand can think it's weird frightening or whatever. How can you change something that overnight?"
Fabrice started having psychotic episodes in his early twenties and still hears voices to this day.
"'Difficult' is the adjective I'd use," Julian said of his son's diagnosis. "And sad, to see somebody so bright, and could give so much, to be shackled with this condition. But we get over it. You just can't dwell on it.
"He still has voices, but not regularly. Sometimes we can hear him laughing. Hr usually has a good time with some of his voices -- he's not a violent person at all.
"This program -- one of the reasons I'm in it and one of the reasons Fabrice is in it -- I hope will change the perceptions people have of the use of the term schizophrenia.
"It's like when someone says they have the flu -- there are so many levels. Some people will have to go to hospital, some people will get pneumonia as a result, and others will have the sniffles. It's a generic term."
Cross, who has appeared in both the first and second "Changing Minds" series, also hopes the program will shed some light on the different aspects of mental health.
"It's the 21st century and we have to apologise for a lot of what we did in the past," Cross said. "A lot of people have felt let down by the system or abused by the system and we welcome those conversations. It's about being open and moving forward in a positive way. There is a really human side to mental health.
"There are a whole lot of myths broken in this series including looking at what nurses, doctors, social workers, mental health occupation workers and health therapists actually do.
"And this belief that [mental illness] is all drugs and people do it to themselves -- it's absolute rubbish."
Series 2 of "Changing Minds: The Inside Story" screens on ABC over three nights -- Tuesday 6 Oct 8.30pm, Wed 7 October 9.35pm and Thursday 8 Oct 8.35pm
If you need help in a crisis, call Lifeline on 13 11 14. For further information about depression contact beyondBlue on 1300224636 or talk to your GP, local health professional or someone you trust.