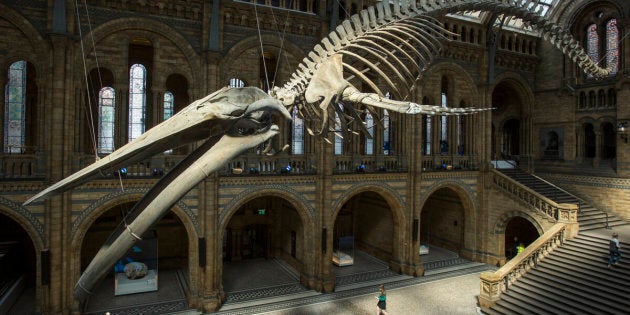 Turns out the Museum of Natural History could learn a thing or two from one very precocious 10-year-old dinosaur lover.
Charlie Edwards was visiting the London museum for an overnight sleepover with his family when he noticed something peculiar ― a sign picturing the silhouette of a Protoceratops was mislabelled as an Oviraptor. (While Protoceratops were four-legged creatures, Oviraptors were bipedal and walked on their hind legs ― obviously.)
Charlie told his mom he suspected the exhibit was incorrect and she was understandably dubious. As she told The Telegraph, "I said to him 'this is the Natural History Museum ― I know you're really good with your dinosaur information but I'm not sure if you're right.'"
Yet Charlie ― who's wanted to be a paleontologist since he was 3 ― was adamant, assuring his mother, "I'm telling you, I'm right." He insisted on alerting a member of the museum staff, and it's a good thing he did.
A few weeks after his visit, Charlie received a letter from the museum telling him that he was absolutely correct; the Oviraptor label was wrongly classified after all. The institution pledged to amend the description and commended Charlie for his remarkable paleontological chops.
"The Museum was recently made aware of a mistake in one of our dinosaur galleries," the Museum explained in a statement. "This has now been raised with our exhibitions team, and we will change this as soon as possible."
"Scientific research and our understanding of the natural world are constantly changing and the Dinosaurs gallery has been refurbished several times to reflect this," the institution continued. "Unfortunately, in the process an error has been made. We are very impressed with Charlie's knowledge and hope his passion for paleontology continues."
We, too, are supremely impressed, but probably not quite as floored as Charlie's mother.
"I am really really proud of him," his mother told The Telegraph. "Charlie has Aspergers [sic] syndrome and tends to find a subject he loves and tries to learn so much about it, so it's really nice that he's been able to show what he's learnt and that knowledge base."