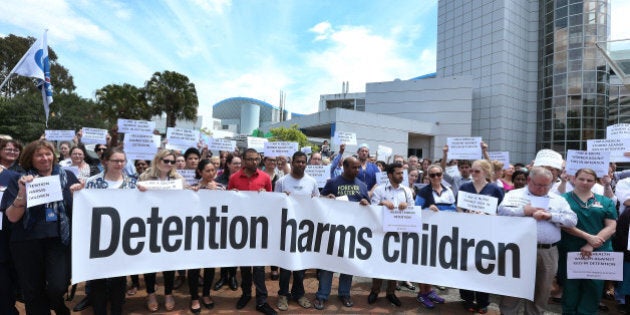 The Federal Government is facing increasing pressure over its plans to send 72 children to Nauru as part of its controversial asylum seeker policy.
There are currently 79 children in detention and the government is planning to send the bulk of them to Nauru, amid ongoing reports asylum seeker and refugee youths face harsh conditions on the tiny pacific island nation.
More than 950 academics have signed a letter imploring Prime Minister Malcolm Turnbull to end detention for children.
"We are concerned about the serious deleterious effect this [detention] has on the physical and psychological welfare of children, who in effect are being punished in the absence of guilt on their part of any kind and outside the normal legal, child protection and welfare frameworks within which their situation should more properly and appropriately be addressed," the letter said.
The group wrote to the government before Christmas, and again on Monday.
The letter's organiser, The University of Melbourne's Professor Philomena Murray, told The Huffington Post Australia children on Nauru have no chance of a normal life.
"People do not sign letters like this lightly," she said.
"It is extremely disappointing when Malcolm Turnbull talks about violence against women and children needing to be stamped out, it's very disappointing that the experience of children is regarded as being only confined to certain parts of Australia."
So far senator Eric Abetz is the only MP to publicly respond to the pre-Christmas letter signed by health, human rights, public policy and legal experts.
He said the letter's pre-Christmas timing showed a "sad disassociation from practical considerations".
One of the signatories, Professor David Issacs, on Wednesday detailed horrific conditions faced by children in detention on Nauru.
The average time for immigration detention is 445 days, or 14 months, about one quarter of children on Nauru have been there over two years, he said.
Professor Issacs spent five days examining about 30 children on Nauru in December 2014.
"Really they had post traumatic stress disorder, and there's no treatment for post traumatic stress disorder that doesn't involve taking away the cause of the stress," he said.
"They are worse off than our convicted prisoners, than our convicted criminals, who know at least when their due date to get out is.
He said he saw a six-year-old with rope burns on her neck after she tried to hang herself with a tie. A 15-year-old boy sewed his lips together with a safety pin, and he saw multiple cases of self harm.
"It makes you shudder even to talk about it again," he said.
At its peak there were about 2,000 children in mainland detention, and that has been cut to 79 -- 72 of whom will be moved to Nauru.
Speaking to Sky News earlier this week, Immigration Minister Peter Dutton said some of parents of the children have adverse ASIO assessments.
"I won't be releasing that parent out into the community," he said.
"So we are trying to make arrangements for the mother and children to go out.
"In some cases they don't want to do that so it's hard, but the worst thing that we can do is allow for the boats to restart which would just fill those vacancies. It's taken a lot of hard work to get down to this number, but we haven't stopped that effort yet and we are still working really hard to get it down closer to zero."
Fresh comment has been sought from Mr Dutton's office.
The letter is the latest in a series of events that have thrown Australia's immigration programme under a renewed spotlight.
On Monday Save The Children CEO Paul Ronalds demanded an apology from the federal government after a review found the expulsion of social workers from Nauru in 2014 was unwarranted.
He also called for an independent oversight mechanism for detention centres.
A group of child asylum seekers on Nauru also appeared in an emotional video pleading for their release and threatening self-harm.
Fairfax last week reported claims from a former teacher that a five-year-old asylum seeker was urinated on by a group of Nauruan boys and asylum seeker girls had been sexually harassed at school, with some parents too scared to send their children to school in 2016.
The government of Nauru responded to the Fairfax report and denied the claims.